Learn & Master Photography is Here!
Monday, May 9, 2011
Fresh off the delivery truck last week, our newest Learn & Master® course is now in the house! Available to the world on our website starting today, May 9, and in retail stores (through Hal Leonard) starting June 1.
To celebrate, we'll be having an Introductory Sale where you can get the comprehensive course on digital photography for only $119! (May 9 - May 16 only)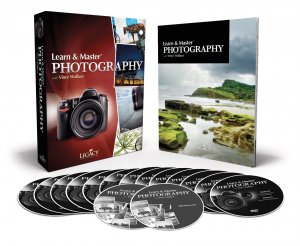 Learn & Master Photography, instructed by award-winning Photographer - Vince Wallace, is the most comprehensive video-based course on digital photography you can find. The course comes with...
24 Sessions (everything from parts of the camera to lighting to on-location shoots and more!)
15 DVDs
2 CDs containing hi-res RAW images to edit
96 page lesson book
Vince Wallace, well, not actually him, but he is the instructor and he is good!
If you are a hobbyist photographer, amateur photographer, mom or grandma wanting to take better pictures of the kids and grand kids, or pretty much anyone else who has a camera, than this course is for you!

Here's a quick video explaining more about the course and after that is a clip from one of the actual lessons on shooting in-studio with a model.


Posted in Learn and Master Photography , Sale | Make a Comment