Don't have all the cash on hand? Prefer to "try-it-before-you-buy-it"? No problem. Choose our convenient payment plan. You'll get all of the materials at once.
Here's how the payment plan works....
For a nominal service fee of $4 per month (non-refundable), you can split up the cost into three payments, billed in 30-day increments.
You will immediately be sent the Learn & Master Piano home study course with our full sixty-day, money-back guarantee. The one-time shipping charge will be added to your first payment, and the remaining monthly payments will automatically post to your credit card.
Start learning piano! If for any reason you don't absolutely love this course (and if you can bear to part with it!), simply return the materials within sixty days for a full refund of the purchase price. Any future payments due will be automatically canceled once the course is returned back to Legacy.
Notice: Prices listed below are for the current sale only.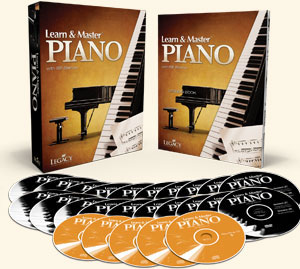 Contains 20 DVDs, 5 Play-Along CDs, Lesson Book, and unlimited access to Student Support Site.
Three payments of
$83 - $49
(plus $4 service fees)
One payment of
$249 - $149
(no service fees)