The Gibson name has stood for superior quality in musical instruments for decades now. With Gibson's Learn & Master Guitar, taught by guitar pro Steve Krenz, that tradition of excellence continues.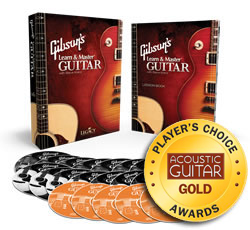 Gibson's Learn & Master Guitar course is known as the most complete course available for learning guitar. It is the winner of the 2011 Acoustic Guitar Magazine 'Players' Choice' GOLD Award, two Telly Awards, and an AEGIS Award for Excellence in Education.
What's Inside:
20 professionally filmed DVDs in HD with over 40 hours of instruction.
5 Jam-Along CDs.
100+ page lesson book.
Unlimited access to our online student support site.

Gibson's Learn & Master Guitar is designed for all skill levels. We provide the roadmap and you provide the practice!
The Alternatives
If you have looked online for guitar courses, you have probably seen a lot of thirty-minute "Learn Guitar Overnight" videos. Your instincts tell you that these will not work. For someone who really wants to learn to play guitar, Gibson's Learn & Master Guitar provides a series of video guitar lessons that will take you from any skill level, even a total novice, through to advanced levels.
Not a beginner guitarist? That's OK. Skim through the basics and jump into the more advanced training. Learn more about using the course as an intermediate player..
Lesson books alone, with no detailed video instruction, can be confusing. Using software-based instruction chains you to your computer and is difficult to use. Private guitar instruction is pricey, inconvenient, and depends on finding the perfect teacher. An average weekly guitar lesson will cost you $2,000 per year plus all that driving!
Gibson's Learn & Master Guitar program solves all of these problems. We combine the best instructional tools for learning guitar in one course. Try it today!


---
Over 40 hours of instruction on 20 DVDs produced in High Definition. These are the heart of Gibson's Learn & Master Guitar. Each lesson is clearly explained and demonstrated, so you know exactly what and how to practice. The videos were recently awarded two Telly awards for excellence in the categories of Education and Use of Music.

---

No one wants to practice along with a video all of the time! Gibson's Learn & Master Guitar Lesson Book contains all of the songs and exercises demonstrated in the video lessons, as well as several more, so you can continue practicing at your own pace for as long as you need before moving on to the next lesson.

---

This is where the fun comes in! These five CDs allow you to "jam along" with an actual band, using the very same songs you'll be learning in your lessons. There's no better way to learn than by playing, and there's no way to play that's more fun than jamming with a band. You'll be amazed at how much more fun this makes your practice time! Your friends and family will be impressed, too, at how soon you'll be playing such amazing music!

---

Gibson's Learn & Master Guitar gives you a rare opportunity to study from a real pro. Steve Krenz has been playing professionally for twenty years. He is not only a truly masterful player with a very impressive bio, but also an incredibly talented teacher and communicator. You won't find a better guitar instructor anywhere. And because it has the Gibson and Learn & Master name, you know the training quality is of the highest caliber.

---

Student Support Forum and Community

Our student support forum is a vibrant learning community with over 15,000 active users, all helping each other along as they progress through the course. Once you purchase the course, you will also get access to our Student Support and Community websites. Steve Krenz, the author of Gibson's Learn & Master Guitar, is online regularly, answering questions and offering encouragement, as are other students. You can also build a student profile, post recordings of your songs, track your progress, and get feedback from Steve and other students. They are just two of the many reasons why our students love us. We hope you'll join us!

---

Award Winning Instruction

The Gibson's Learn & Master Guitar course has been awarded the 2011 Acoustic Guitar Player's Choice GOLD Award. Acoustic Guitar is both an online community of guitarists and a guitar magazine. Every two years, they hold their Player's Choice Awards. These awards are given to the best guitars, gear, and instructional products in the industry. We are proud to have received this prestigious recondition

---

60-Day No Questions Asked Money Back Guarantee

We want you to be delighted with Gibson's Learn & Master Guitar. If you are not, simply return the course within sixty days for a full refund of the purchase price. No questions asked. It's that simple. We get very few returns, but when we do, they are handled promptly and courteously. Order now with confidence.

---

Exclusive Offer - Get an Epiphone Acoustic or Electric Guitar!

Don't have a guitar? We are pleased to be able to offer these Exclusive Start Up Bundles. The Epiphone PR-4E Player Pack and the Epiphone Special II Player Pack contain everything you need to get stated. The Player Packs contain a high quality Epiphone guitar, an Epiphone amplifier, a gig bag, Strap, picks and other accessories that will allow you to jump right in to your homeschool music program. This exclusive bundle also contains Gibson's Learn & Master Guitar Edition. This great all-in-one package is perfect for anyone wanting to start a homeschool guitar lesson program. Whether you want to play an acoustic or an electric, you will save even more when you take advantage of this great offer available only here. Order now.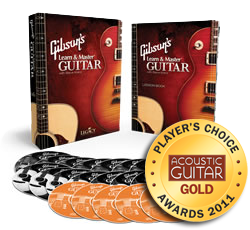 Or Call Toll-Free

866-683-6027