The Gibson name has stood for superior quality in musical instruments for decades now. With Gibson's Learn & Master Guitar, taught by guitar pro Steve Krenz, that tradition of excellence continues.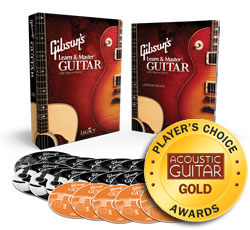 Gibson's Learn & Master Guitar course is known as the most complete course available for learning guitar. It is the winner of the Acoustic Guitar Magazine 'Players' Choice' GOLD Award, two Telly Awards, and an AEGIS Award for Excellence in Education.
What's Inside:

Gibson's Learn & Master Guitar is designed for all skill levels. We provide the roadmap and you provide the practice!
The Alternatives
If you have looked online for guitar courses, you have probably seen a lot of thirty-minute "Learn Guitar Overnight" videos. Your instincts tell you that these will not work. For someone who really wants to learn to play guitar, Gibson's Learn & Master Guitar provides a series of video guitar lessons that will take you from any skill level, even a total novice, through to advanced levels.
Not a beginner guitarist? That's OK. Skim through the basics and jump into the more advanced training. Learn more about using the course as an intermediate player..
Lesson books alone, with no detailed video instruction, can be confusing. Using software-based instruction chains you to your computer and is difficult to use. Private guitar instruction is pricey, inconvenient, and depends on finding the perfect teacher. An average weekly guitar lesson will cost you $2,000 per year plus all that driving!
Gibson's Learn & Master Guitar program solves all of these problems. We combine the best instructional tools for learning guitar in one course. Try it today!
Our student support forum is a vibrant learning community with over 15,000 active users, all helping each other along as they progress through the course. Once you purchase the course, you will also get access to our Student Support and Community websites. Steve Krenz, the author of Gibson's Learn & Master Guitar, is online regularly, answering questions and offering encouragement, as are other students. You can also build a student profile, post recordings of your songs, track your progress, and get feedback from Steve and other students.