"We will save a tremendous amount of money by using your product instead of using our current piano teacher. In today's economy, that is a major plus!! Thank you, thank you, and thank you!! I also enjoy the flexibility—we can have music lessons that fit into our busy schedule as well as work at each individual's pace." Rhonda P. - Home School Mom
Give Your Students A Lifetime of Music
There's nothing like the sense of accomplishment that comes from learning an instrument! Music instruction is one of the best things you can give your student. Lifetime benefits have been demonstrated in study after study.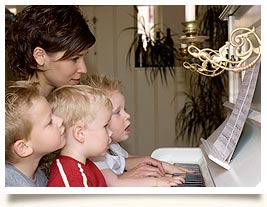 You're now looking at the best, most comprehensive course available for music instruction in the home. We've stood the test of time and taught tens of thousands of people (in 90 countries worldwide) to play an instrument through home instruction. This is not a "mini-course."
Learn & Master Piano has been widely recognized as the best home instruction course for learning piano available anywhere. It consists of 20 professionally produced DVDs, 5 Play-Along CDs, a 100+ page lesson book, and a free online student support site.
"But I Can't Play Piano. Can I Still Teach My Child?"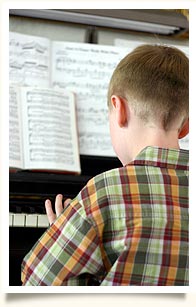 The home-school parents we talked to let us in on their main concern: "Can I really teach my child if I don't know how to play myself?" The answer is, "With Learn & Master Piano, you don't need to." Professional Pianist and teacher, Will Barrow does all the teaching for you. We keep you involved using our Teacher Resource DVD and 68-page Teacher's Guide book so you can keep up with your student's progress as they work through all 28 Sessions & Bonus Workshop (on 20 Lesson DVDs.)
You'll never get lost. The Teacher's Resource DVD literally "talks you through" exactly what to ask for and expect from your students at each point. A comprehensive Scope-and-Sequence, plus reproducible Weekly Practice Logs keep you on top of the entire musical education process. You'll know what your child should be learning all the way through this 2-year curriculum.
From the Instructor, Will Barrow:
"Music learning is something that will enrich your child's life for the entire lifetime. Part of ensuring their future success is learning skills that music can teach them—skills of diligence, problem solving, perseverance, and working with others. I'll guide you, through written material and DVDs, to help your student work through the wonderful process of learning piano."
The Most Cost-Effective Way to Provide a Musical Education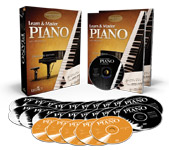 The average cost of a 30-minute piano lesson is around $35-40 each week. That's $140 a month--over $1600 per year! And that's to take lessons somewhere away from your home, on someone else's schedule, from someone who may not even be a very motivating teacher. You can avoid the hassle and cost of expensive private lessons—the driving and scheduling—and learn in the comfort of your own home, on your own schedule, at a fraction of the cost..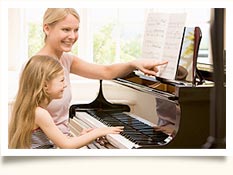 "My name is MacKenzie. I'm a thirteen year old girl from Rhode Island. My father bought me the Legacy Learning System, Learn & Master Piano after my sister started taking piano but I liked it more than she did. Here's what I think:

I like how you learn a lot and can choose your own pace for the lessons. I enjoy how I can sit down whenever I want and am not obligated to attend any regular lessons. I also appreciate that I can pause the program and take a break or have a snack in the middle of the lesson and come back later when if I'm with a teacher I cannot. I have not yet tried any other methods of home-schooling piano,but from what I have experienced, I hope to continue these lessons. " MacKenzie L. - Home School Student
"Learn & Master Piano contains much more information than other courses by going beyond just learning how to play chords, teaching the student to play the right and left hands independently with reading notes, chords, and rhythms. Also, what elevates this course is the addition of basic music theory and ear training. Learn & Master Piano is exceptional when it comes to learning to play and contains everything a student needs to know to become proficient! Learn & Master Piano is THE course to own!" Cindy J.