You shouldn't have a guitar that's hard to play.
An in-depth, step-by-step course on how to set up your guitar in your own home using a few easy-to-use tools.
LEARN MORE
ORDER NOW
You'll learn how to properly restring your guitar and how to adjust the action from the bridge to the saddles. You'll discover how to adjust the neck and check the relief. Does your guitar play out of tune? You'll learn the fundamentals of intonation. You'll also learn how to care for and clean your guitar with complete confidence.
The better your guitar is set up, the easier it is to play ... and the more likely you are to play and practice with it, improving your musical talent as a result.
The Instructor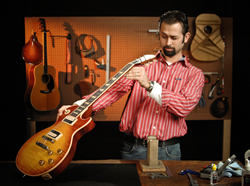 Greg Voros, master luthier, has spent years working on guitars for the legendary George Gruhn of Gruhn's Guitars. He's been entrusted with the repair, restoration, and setup of guitars ranging in value from $100 to $250,000. He'll share the skills and knowledge he's picked up through his years of working on some of the most valuable instruments in the world.

Check out Sample Lessons Here!
"With Greg's professional setups, my guitars play and sound their best on stage and in the studio. I trust Greg to get the job done right, every time." Tyler Unger, guitarist, Five Times August and Nashville studio musician
The Guitar Setup course includes: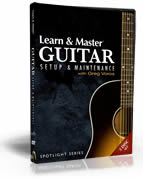 3 full-length DVDs of instruction
Instruction on tuning and adjusting intonation
How to adjust the action, bridge, and pickup height
How to adjust the neck for precise relief
Full cleaning/maintenance of your instrument
We've chosen four of the most common guitars to use as examples in this course. You'll learn while following a setup of the Gibson Les Paul, a Fender Stratocaster, a Gibson L7 arch-top acoustic guitar, and a Martin flat-top acoustic guitar.
If you're guitar is not one of these, don't worry. The concepts and steps to these setups will apply to your guitar as well. You can have a better playing and sounding instrument in a matter of hours!
"Greg's fretwork and set ups are second to none. I challenged him with some odd vintage pieces (like a Hagstrom 8-string bass with a very funky neck), and he exceeded my expectations for both playability and appearance. He applies common sense, science, and careful measurement in a field of work that is often filled with 'voodoo' and 'feel.' The result is art." Jay Weaver, bassist, Dolly Parton, Tanya Tucker, Raul Malo, Jim Lauderdale
Check out Sample Lessons Here!
Legacy Guitar Services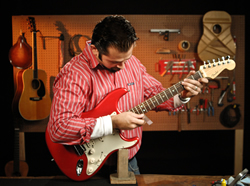 Sometimes a guitar will need more work than a basic setup. Sometimes you'd rather have a professional do your setup for you.
Legacy Learning Systems is offering you a unique opportunity to have Greg Voros personally setup your guitar! If you would like Greg to handle your guitar setup (or you think your instrument might need more in depth work), click here for more information about our Guitar Services.
Greg will personally examine the instrument and give you his professional opinion. He is an expert at bringing out the best in any instrument.
He will make his recommendation based on whether or not the repairs would be cost effective to the value of the instrument.
Learn More about Legacy Guitar Services
"As an owner of vintage guitars, I know the importance of a good luthier. I have played with professionals and when asked if they like my music, they all say the same thing: 'Not really, but do you mind if I play that guitar? Who did the setup?" C. Edward Fowlkes (Lawyer Fowlkes), radio host, Legally Speaking WLAC
---
Once you have Learn & Master Guitar Setup and Maintenance, you'll never need to take your guitar in for routine repairs or setup again!
There's nothing like work done by the hands of a true master. Let Greg Voros (guitar restoration specialist and master luthier) put his touch on your instrument.
The student support forum is a vibrant learning community with over 15,000 active users, all helping each other along as they progress through the course. Greg Voros, the author of Gibson's Learn & Master Guitar Setup and Maintenance, is online regularly, answering questions and offering encouragement, as are other students. You can also build a student profile, post recordings, track your progress, and get feedback from other experts and students.