You'll get what you need ... the musical understanding, the concepts, chords, techniques, and riffs that allow you to enter the world of great blues guitar playing.
Learning Blues haphazardly can be very frustrating—a lick here, a lick there—so having a complete system that takes you by the hand from the basic progressions and tools to advanced blues soloing can save you months of dead-end trial and error.
With this course, you'll learn the notes, chords, and form that make up the blues. You'll also build a strong repertoire of ready-to-use riffs (shown in both music and TAB) that can immediately be incorporated into your playing.
You'll hear exactly what to play with each session's "Hearing the Blues" ear training exercises. Explore and demonstrate your new skills with a real band in a variety of musical settings using the Jam-Along CD and DVD.
The Instructor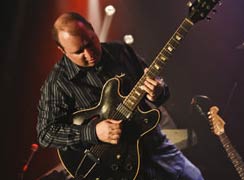 Steve Krenz, professional guitarist & instructor, has performed for years with numerous Grammy-winning artists as a Nashville studio guitarist. He is a passionate educator and author of award winning Learn & Master® Guitar (Acoustic Guitar Magazine's Players Choice Award Winner). His practical and easy to understand teaching style makes learning Blues Guitar uncomplicated, attainable, and fun.
"I really enjoyed working with Steve on the blues course. He's a fine guitarist and an excellent instructor. The Legacy Learning Systems products are top notch." Jack Pearson, guitarist, Allman Brothers Band, Jimmy Buffett, Delbert McClinton
The Blues Guitar Course Includes: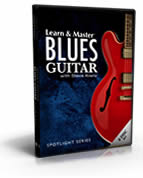 6 DVDs of over 8 hours of practical instruction
Jam-Along DVD & CD with over 20 songs in various styles for practice
In-depth interviews with legendary blues guitarists Jack Pearson & Johnny Hiland
Downloadable book & access to our online support community
Easy to follow on-screen music and key ideas
Essential blues guitar techniques explained thoroughly and simply
Order Now
Learn to play fast shuffles, slow 12/8 blues, as well as "blues-in-every-key." Learn all the standard blues guitar techniques such as bends, pull-offs, palm muting, and slide playing. Get your head in the game by understanding blues notes, blues scales, pentatonic scales, and blues chord progressions.
The skills you will build in this course will allow you to lay down the blues with complete confidence!
"I am very honored to have had the pleasure of meeting, pickin,' and teaching guitar with my new bud, Steve Krenz. Legacy Learning Systems provide a wonderful, informative, and user-friendly way to learn guitar. It's fun, easy to use, and inspirational!!!" Johnny Hiland, guitarist, Ricky Skaggs, Toby Keith, Hank Williams Jr.