FALL WEEKEND SALE!
If you've been waiting, now is the time to buy!
Our Fall Weekend Sale is going on now! Get this item for $99 Plus Free Shipping* this Friday through Sunday only!
* Fall Weekend Sale ends Sunday, November 28. Half Off International Shipping.
Gibson's Learn & Master Guitar (Full 25 Disc Edition) by Steve Krenz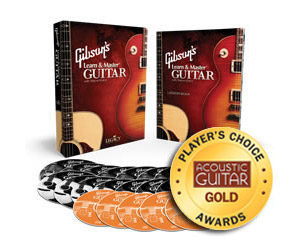 view larger preview image
INCLUDES:
· 10 Lesson DVDs
· 10 Workshop DVDs
· 5 Jam-Along CDs
· Lesson Book
· Unlimited Access to Student Support Site

$249.00
-
$99.00
Sale Ends Sunday, Nov 28!
ADD TO CART
International Orders
Ordering from outside the USA? See
price in Canada
.
See the
International Orders Page
for more information.
---
Frequently Bought Together

Price for Both: $264.00
ADD TO CART

Learn More About
The Song Hits!