Cyber Monday Sale!
It is officially time to buy Christmas gifts! Get $100 off during our Cyber Monday Sale. Today only! Sale ends at midnight Central Standard Time!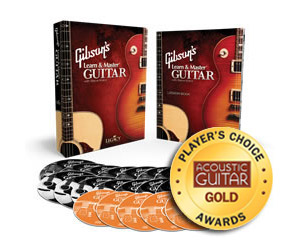 view larger preview image
INCLUDES:
· 10 Lesson DVDs
· 10 Workshop DVDs
· 5 Jam-Along CDs
· Lesson Book
· Unlimited Access to Student Support Site

$249.00
-
$149.00
Sale Ends Monday, Nov 30!
Or as low as $49.67/month...
choose a payment plan.
ADD TO CART
International Orders
Ordering from outside the USA? See
price in Canada
.
See the
International Orders Page
for more information.
---
Frequently Bought Together

Price for Both: $349.00
ADD TO CART

Learn More About
The Song Hits!
Epiphone Special II Electric Player Pack
Now available through this exclusive offer, get the Gibson's Learn & Master Guitar (Expanded Edition) course and an Epiphone Player Pack. The Epiphone Special II Pack gives you everything you need to get on your way to playing great guitar! The Special II features a solidbodied electric guitar with the classic Les Paul single-cutaway design with two great sounding humbucking pickups and a fast-playing neck for easy fretting. The package also includes a Studio 10 amp which has a classic look to it, and is equipped with volume and EQ controls. Bundled with the Award winning Gibson's Learn & Master Guitar (Expanded Edition) course, this is everything you need to get started!

Included in the package:

• Gibson's Learn & Master Guitar Course (Expanded Edition),
• Epiphone's Special-II solidbody Ebony electric guitar with 2 humbucking pickups.
• Studio 10 amplifier,
• Durable gig bag,
• picks, strap, and tuner
$449.00
-
$349.00
*30 DAY RETURN POLICY FOR GUITAR PACKAGE
*NOTE - NOT available for International Orders.
*Available for Fedex ground shipping ONLY.

Or Choose a Payment Plan
for as low as $116.33/month