Learn & Master Piano - Home School Edition Benefits:
Stop paying for private lessons! (This 2-year course would cost you $3000+ in private piano lessons ... not to mention 100's of hours of driving time!).
Purchase once, use for a lifetime — one program for all of your students.
Appropriate for both children and adults. (Many homeschooling parents are using this course to learn piano with their children!)
Start at your own level and go from there. (From beginner or intermediate to advanced mastery.)
You will develop ear-training skills so you can listen to a melody and immediately play it.
The exercises build "muscle memory" so your fingers will do what you want them to do without always having to look at the keyboard.
With this course, you become a very versatile pianist, comfortable playing many different styles.
You'll learn all the Major and Minor scales and "Pretty Chords" with our simple, step-by-step approach.
Master "upside down chords" so you'll be able to recognize where you are on the keyboard in any key.
High quality videos, clear illustrations, and easy-to-follow instructions take you through this systematic learning course!
Learn chord voicings used by the pros to create the sounds you hear on the radio every day.
ORDER NOW
What Do You Get With This Curriculum and Course?
28 Piano Sessions on 20 DVDs - Over 2 years worth of scope-and-sequenced material.
100+ pages of Workbook training and explanatory notes.
68 page Teacher Guide to prepare you for your child's learning sessions.
Teacher Resource DVD to literally "talk you through" the lesson plans.
28 Video Demonstrations to "teach" the material, which is followed by ...
28 Workshop Videos – where the student is guided through matching practice sessions!
Reproducible Weekly Practice Logs so your student always knows what's expected.
Progress Chart - to track and evaluate the student's progress in each skill and technique.
Speed Sequences - to track and push picking speed.
Finger Workouts - to build dexterity and intuitive playing.
Essential Chords – start slow, and then build on!
Free Play-Along CD Tracks – a FUN way to practice all the new skills
Free Email Support
Free Membership Support
ORDER NOW
About the Course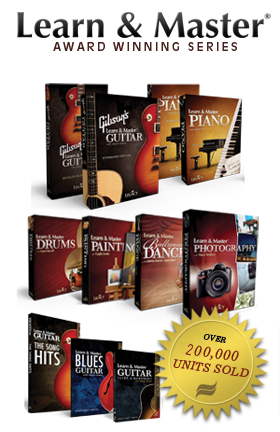 Guitar • Piano • Drums • Ballroom Dance • Painting • Photography