January 2014 Student of the Month: Sylvain A.
Sunday, January 12, 2014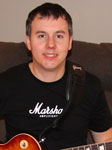 Name
: Sylvain A.
My City
: Quebec City
Forum Usernam
e: d2_racing
Name: Sylvain A.
My City
: Quebec City
Forum Username
: d2_racing
http://community.learnandmaster.com/index.php?/user/53234-d2-racing/
My Instruments/gear
: 
- Gibson Les Paul Standard 2013 Quilt Top Honey Burst
- Gibson Fatboy Premium Comfort Strap
- Marshall SL5 combo 5 watts
- Joe Bonamassa Dunlop pick
Favorite Artists/Bands
:   
- Joe Bonamassa
- Jimmy Page
- David Gilmour
- Mark Knopfler
- Gary Moore
- SRV
- AC/DC
- ZakkWylde
Favorite style(s) to play
: I want to learn how to play classic Rock/Hard Rock and Blues.
What made you want to play music?
When I was 10, my grandmother gave me my first electric guitar(Series A Fender Strat copy) for Christmas. I took some courses but when I was in high school, my music teacher didn't want me to bring my electric guitar to class. So I bought a classical guitar and it was the end of my short guitar story.  The teacher was so boring...22 years later, when my grandmother passed away, my mother found my guitar in the basement.
I brought it back to my house and I started to practice again after my friend Danny Hebert made an awesome setup job on it. I used a lot of youtube videos, different sites, and one day I found the Learn & Master Guitar course and I never stop practicing.
Previous music experience
: During my elementary school(6-10), I played piano for about 2-3 years. I was good for my age, but it was not my thing.
If your house was on fire, which instrument would you grab?
My Gibson Les Paul Standard of course :P
What is your favorite place to be when playing guitar?
I have a little studio in my basement and this is where I play.
What has been your highest, most delightful musical moment so far?
  When I was able to play Wish You Were Here by Pink Floyd including the little solo at the beginning and the rhythm part back in june 2013. More recently, it's when I played guitar with my friend Richard Ross, it was the first time that we were able to jam along with the Let's Jam cds that I won during a Live Session with Steve.
Connect

RSS Feed

Twitter

Facebook

Support Forum
Blogroll
Courses