Thursday, May 7, 2015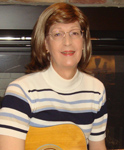 Name: Diane B.


My City: Newark, Delaware. I'm a native of Newport News, Virginia.


Forum Username: DianeB


My Gear: A 1975 Rhode Island Guild D-35 dreadnought with Elixir custom lights. It's just the two of us. She's aged better than I have and we're used to cutting loose. A shop owner let me try out an amped Telecaster recently, and I nearly shook the mandolins off the wall.


Favorite Artists/Bands: My steadies? Pat Metheny, Leo Kottke, Mary Chapin Carpenter, Shelby Lynne, Neil Young, Bonnie Raitt. Nostalgic for? The Ventures, Stephen Stills, Joni Mitchell, Carole King, Eagles, Renaissance, Steely Dan. Up and coming? Alabama Shakes.


Favorite Style to Play: I'm just starting on fingerstyle, and looking forward to jazz chord melodies. Until then, it's mostly strumming on ballads. I give my jam group fits with songs full of major sevenths.


What made you want to play music? My best friend in grade school was born to be a performer, and she could play the folk songs of the day. I was so envious of her, but not enough to ask my parents for lessons. I didn't hold a guitar again until I started college, when a classmate let me try his. He showed me my first chords, then I was off and running. My first guitar followed, a Fender student acoustic. I wore notches into the frets trying to play along with my records. This did not help my grade point average. I blame Stephen Stills, Carole King, and James Taylor.
Previous Music Experience: From singing, or something like it, in the church choir in my high school days, I learned to match pitch and stay within my very limited range. It was a good introduction to the basics of music notation.


If your house were on fire, which instrument would you grab? The voltammeter would have to fend for itself, because I'll be wrapping the Guild in my bathrobe.


Where & how do you practice? I have a spare bedroom that's my music room. I warm up a few minutes with finger exercises, then technical stuff. These days it's scales and skipping strings. Next comes whatever impossible task on the music stand I've been putting off. That's the hardest part: saying to myself I haven't learned it yet, then relaxing, and getting on with it, flubs and all. When my attention drifts, I get up for awhile. Finally I just play songs, often to a YouTube accompaniment on my iPad. I use the iPad to keep my practice journal, and average a couple of hours a day.


What has been your most Magical Musical Moment? It's a draw: I played with a small ensemble this past Christmas season at a nursing home where most of the residents have dementia. A tough room, it seemed, until we started to play. Eyes opened. Then came the foot tapping, the singing, even dancing. I had to wipe my eyes. If music can do anything better than this, I can't imagine what it could be.
Last fall I worked up the nerve to bring my guitar to the neighborhood cookout. I just put the case by my chair, and when dessert ended, someone said, "Diane, can you play us something?" I answered, "I'm not sure, let's find out." As twilight fell, a dozen of my neighbors—strangers!—pulled their chairs around, and I just played. No one to hide behind, but I didn't mind. The music came. There were nods, and smiles, and some welcome help with the vocals. As we said good night, I thought, "Wow, I want to do this again."


How Did You Find Our Guitar Family? As retirement approached, and my dusty Guild waited patiently on its stand, I realized it was now, or never. So I looked online for instruction programs, thinking at first I would just fill in some of the gaps in my beginner's knowledge. When I saw Steve's sample videos and the forums, I knew it was what I wanted.


Sum Up Your Experience Learning Guitar in a Sentence: It's been rather like learning tennis: messy in the beginning, some physically demanding, mind-numbing repetition along the way, and pure bliss when the body does what the mind imagines.


Hobbies: Tennis gave way to volleyball, which gave way to bowling. I miss some things about film photography, like the excitement of seeing how my slides and prints turned out. I'm a little nutty for the 1939-40 New York World's Fair, which I didn't attend until it had been closed for sixty years.


Current Job: I retired recently from teaching college chemistry. Just about everything I said to my students as a teacher has echoed back to me in my new life as a music student, to my amusement—and chagrin.
Continue Reading:
May 2015 Student of the Month--Diane B
Posted in | No Comments »
Thursday, May 7, 2015
Tired of strumming the same old chords? Instantly boost the sound of your chord playing by using hammer-ons and pull-offs.
Continue Reading:
Video Tip: Instant Chord Improvement
Posted in | No Comments »
Friday, March 20, 2015
Learn these classic early rock "Chuck Berry" licks that every guitar player should know. Perfect for Blues or Rockabilly!
Continue Reading:
Video Tip: Classic Early Rock Licks
Posted in | No Comments »
Friday, March 20, 2015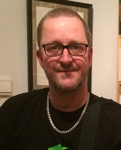 Name: Guttorm Andreasen

My City: Oslo, Norway

Forum Username: Guttorm

My Instruments/gear:
PRS SE Dave Navarro, white
Ibanez 2372 Recording -73, dark mahogny
Fender Jaguar Blacktop
Epiphone Wildkat, antique natural
Epiphone Firebird Reverse, black and white
Eastwood Sidejack Baritone DLX, dark blue
Nebelung Riffmeister, black
Squier Stratocaster, black
Peavey Vypyr 75 W
Way too many pedals

Favorite Artists/Bands: All of them! I do this for a living and love music, period. But I would take Pixies, Kraftwerk, Zappa, Hüsker Dü, Dead Kennedys, Kanda Bongo Man, Earth, Buddy Holly, Black Sabbath and Razika with me on a Desert Island. What a party! My main guitar inspirations include Charley Patton, Dimebag Darrell, Toni Iommi, Willie Nelson, Poison Ivy (The Cramps), Grant Green, Hank Williams (Sr), Frank Zappa, Herman Li (Dragonforce), Johnny Ramone, Andreas Kisser (Sepultura), Keith Levene (PiL), East Bay Ray (Dead Kennedys), Johnny Winter, Ivar Bjørnson (Enslaved), Lightnin' Hopkins, Billy Gibbons, David Gilmour, Junior Marvin (Bob Marley) Dylan Carlsson (Earth), Nile Rodgers, Buddy Holly. Toni Iommi, Frank Zappa and Grant Green again.

Favorite style(s) to play: Most of them, here too. I love country, blues, refrain driven pop songs and it's a terrific feeling to perform and see a great big crowd dance to your music! But extremely dark metal, punk, doom, minimalist norwegian folk music and experimental guitar noise, the genres I perform most, are closest to my guitar heart. Nothing says it like an overdriven downtuned powercord!

What made you want to play music? Life itself. I could never not play music.

Previous music experience: I used to play the guitar a bit when I was young, in my early 20's. I was in a band, several bands, we gigged and all, but I barely knew the rudimentals of guitar and couldn't even name the 3-4 chords I could play. So the guitar lay there sleeping for more than 20 years.Meanwhile, I slowly taught myself electronic music production and started gigging with a full electronic rig. 4 years ago I decided that I had one more shot at learning the guitar before I turned 50. So I bought the Learn & Master course. What a blessing!

If you house was on fire, which instrument would you grab? That would be my old, rare and weird Ibanez, now in tatters and taken apart, waiting for a new life. But it was my first guitar and the only irreplaceable one. But the PRS is the one I play daily. Amazing value for money!

What is your favorite place to be when playing guitar? Anywhere where I can find a guitar.

What has been your highest, most delightful musical moment so far? Most of them. To be able to and have the guts to actually make music and have actual people listen to it, no matter how few or many, whether live or online or on an album or whateveris a feeling that always leaves me full of awe and thankfulness.

Hobbies: With 4 kids, 1 wife, 7 guitars, a small studio and several full jobs, life itself is a hobby!

Current Job: Musician, DJ, radio presenter, writer, teacher, moderator, journalist, inspirational talks about music, so in a word: MUSIC!
Continue Reading:
March Student of the Month Guttorm Andreasen
Posted in | No Comments »
Monday, December 15, 2014
Here's a quick tip on moving familiar open chords up to different parts of the neck to create fresh sounding new chords.
Continue Reading:
Music Magic by Moving Chords
Posted in | No Comments »
« Older Entries
Connect

RSS Feed

Twitter

Facebook

Support Forum
Blogroll
Courses