March Student of the Month Guttorm Andreasen
Friday, March 20, 2015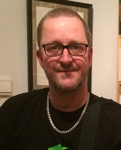 Name: Guttorm Andreasen

My City: Oslo, Norway

Forum Username: Guttorm

My Instruments/gear:
PRS SE Dave Navarro, white
Ibanez 2372 Recording -73, dark mahogny
Fender Jaguar Blacktop
Epiphone Wildkat, antique natural
Epiphone Firebird Reverse, black and white
Eastwood Sidejack Baritone DLX, dark blue
Nebelung Riffmeister, black
Squier Stratocaster, black
Peavey Vypyr 75 W
Way too many pedals

Favorite Artists/Bands: All of them! I do this for a living and love music, period. But I would take Pixies, Kraftwerk, Zappa, Hüsker Dü, Dead Kennedys, Kanda Bongo Man, Earth, Buddy Holly, Black Sabbath and Razika with me on a Desert Island. What a party! My main guitar inspirations include Charley Patton, Dimebag Darrell, Toni Iommi, Willie Nelson, Poison Ivy (The Cramps), Grant Green, Hank Williams (Sr), Frank Zappa, Herman Li (Dragonforce), Johnny Ramone, Andreas Kisser (Sepultura), Keith Levene (PiL), East Bay Ray (Dead Kennedys), Johnny Winter, Ivar Bjørnson (Enslaved), Lightnin' Hopkins, Billy Gibbons, David Gilmour, Junior Marvin (Bob Marley) Dylan Carlsson (Earth), Nile Rodgers, Buddy Holly. Toni Iommi, Frank Zappa and Grant Green again.

Favorite style(s) to play: Most of them, here too. I love country, blues, refrain driven pop songs and it's a terrific feeling to perform and see a great big crowd dance to your music! But extremely dark metal, punk, doom, minimalist norwegian folk music and experimental guitar noise, the genres I perform most, are closest to my guitar heart. Nothing says it like an overdriven downtuned powercord!

What made you want to play music? Life itself. I could never not play music.

Previous music experience: I used to play the guitar a bit when I was young, in my early 20's. I was in a band, several bands, we gigged and all, but I barely knew the rudimentals of guitar and couldn't even name the 3-4 chords I could play. So the guitar lay there sleeping for more than 20 years.Meanwhile, I slowly taught myself electronic music production and started gigging with a full electronic rig. 4 years ago I decided that I had one more shot at learning the guitar before I turned 50. So I bought the Learn & Master course. What a blessing!

If you house was on fire, which instrument would you grab? That would be my old, rare and weird Ibanez, now in tatters and taken apart, waiting for a new life. But it was my first guitar and the only irreplaceable one. But the PRS is the one I play daily. Amazing value for money!

What is your favorite place to be when playing guitar? Anywhere where I can find a guitar.

What has been your highest, most delightful musical moment so far? Most of them. To be able to and have the guts to actually make music and have actual people listen to it, no matter how few or many, whether live or online or on an album or whateveris a feeling that always leaves me full of awe and thankfulness.

Hobbies: With 4 kids, 1 wife, 7 guitars, a small studio and several full jobs, life itself is a hobby!

Current Job: Musician, DJ, radio presenter, writer, teacher, moderator, journalist, inspirational talks about music, so in a word: MUSIC!
Connect

RSS Feed

Twitter

Facebook

Support Forum
Blogroll
Courses