May 2015 Student of the Month--Diane B
Thursday, May 7, 2015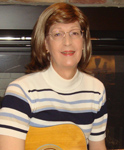 Name: Diane B.


My City: Newark, Delaware. I'm a native of Newport News, Virginia.


Forum Username: DianeB


My Gear: A 1975 Rhode Island Guild D-35 dreadnought with Elixir custom lights. It's just the two of us. She's aged better than I have and we're used to cutting loose. A shop owner let me try out an amped Telecaster recently, and I nearly shook the mandolins off the wall.


Favorite Artists/Bands: My steadies? Pat Metheny, Leo Kottke, Mary Chapin Carpenter, Shelby Lynne, Neil Young, Bonnie Raitt. Nostalgic for? The Ventures, Stephen Stills, Joni Mitchell, Carole King, Eagles, Renaissance, Steely Dan. Up and coming? Alabama Shakes.


Favorite Style to Play: I'm just starting on fingerstyle, and looking forward to jazz chord melodies. Until then, it's mostly strumming on ballads. I give my jam group fits with songs full of major sevenths.


What made you want to play music? My best friend in grade school was born to be a performer, and she could play the folk songs of the day. I was so envious of her, but not enough to ask my parents for lessons. I didn't hold a guitar again until I started college, when a classmate let me try his. He showed me my first chords, then I was off and running. My first guitar followed, a Fender student acoustic. I wore notches into the frets trying to play along with my records. This did not help my grade point average. I blame Stephen Stills, Carole King, and James Taylor.
Previous Music Experience: From singing, or something like it, in the church choir in my high school days, I learned to match pitch and stay within my very limited range. It was a good introduction to the basics of music notation.


If your house were on fire, which instrument would you grab? The voltammeter would have to fend for itself, because I'll be wrapping the Guild in my bathrobe.


Where & how do you practice? I have a spare bedroom that's my music room. I warm up a few minutes with finger exercises, then technical stuff. These days it's scales and skipping strings. Next comes whatever impossible task on the music stand I've been putting off. That's the hardest part: saying to myself I haven't learned it yet, then relaxing, and getting on with it, flubs and all. When my attention drifts, I get up for awhile. Finally I just play songs, often to a YouTube accompaniment on my iPad. I use the iPad to keep my practice journal, and average a couple of hours a day.


What has been your most Magical Musical Moment? It's a draw: I played with a small ensemble this past Christmas season at a nursing home where most of the residents have dementia. A tough room, it seemed, until we started to play. Eyes opened. Then came the foot tapping, the singing, even dancing. I had to wipe my eyes. If music can do anything better than this, I can't imagine what it could be.
Last fall I worked up the nerve to bring my guitar to the neighborhood cookout. I just put the case by my chair, and when dessert ended, someone said, "Diane, can you play us something?" I answered, "I'm not sure, let's find out." As twilight fell, a dozen of my neighbors—strangers!—pulled their chairs around, and I just played. No one to hide behind, but I didn't mind. The music came. There were nods, and smiles, and some welcome help with the vocals. As we said good night, I thought, "Wow, I want to do this again."


How Did You Find Our Guitar Family? As retirement approached, and my dusty Guild waited patiently on its stand, I realized it was now, or never. So I looked online for instruction programs, thinking at first I would just fill in some of the gaps in my beginner's knowledge. When I saw Steve's sample videos and the forums, I knew it was what I wanted.


Sum Up Your Experience Learning Guitar in a Sentence: It's been rather like learning tennis: messy in the beginning, some physically demanding, mind-numbing repetition along the way, and pure bliss when the body does what the mind imagines.


Hobbies: Tennis gave way to volleyball, which gave way to bowling. I miss some things about film photography, like the excitement of seeing how my slides and prints turned out. I'm a little nutty for the 1939-40 New York World's Fair, which I didn't attend until it had been closed for sixty years.


Current Job: I retired recently from teaching college chemistry. Just about everything I said to my students as a teacher has echoed back to me in my new life as a music student, to my amusement—and chagrin.
Connect

RSS Feed

Twitter

Facebook

Support Forum
Blogroll
Courses