Black Friday Sale from Legacy Learning Systems
Thursday, November 25, 2010
As shoppers and gift-givers are looking for that perfect gift,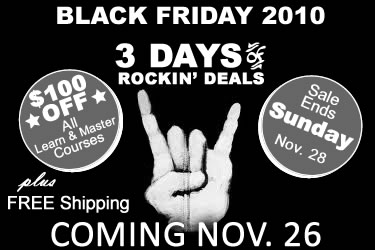 we've got you covered.  You probably have someone in your family or a close friend who has always wanted to learn guitar.
Gibson's Learn & Master Guitar is the perfect gift for that person not only because it has won awards (Acoustic Guitar Magazine Players' Choice Award, two Telly Awards and an AEGIS Award for Excellence in Education), not only because you can learn guitar from the comfort of your own home (DVD-based instruction)...
...but on Black Friday, and two days following, it will be on sale for
$100 off
the MSRP of $249 AND
free shipping!
This course is professionally produced, filmed in HD, has over 40 hours of instruction and includes a lesson book and multiple jam-along CDs so you can play with a real band!  Steve Krenz, professional guitarist and instructor, is the author and teacher who will guide you (or whoever you give it to!) through your path to mastering the guitar.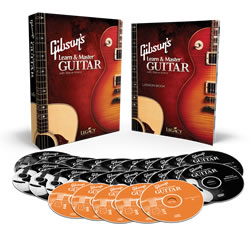 Learn about the course and Black Friday Sale here
If you are in the market for guitars, guitar gear or other guitar accessories...be sure to check out the Black Friday Deals? thread on our Guitar Forum where members have posted some great sales they've found.  If you know of any more, feel free to add it to the thread!
Connect

RSS Feed

Twitter

Facebook

Support Forum
Blogroll
Courses