Guitar Gathering Early Registration Ends!
Friday, May 20, 2011
Tomorrow is the deadline for the early-bird registration discount for Guitar Gathering 2011. Should you find yourself with the dates of June 22-26 open, you should join us. Should you find the dates of June 22-26 booked, you should cancel whatever you're doing and join us. This event only happens once a year!

What does registering early get you?
$100 off
the price of the registration fee! This price includes access to all the workshops, classes and events happening at the gathering. It includes meeting, hearing and playing with such guitarists as
Rick Vito
,
Russ Barenberg
,
Will McFarlane
,
Vince Gill
, and special, last-minute guest
Johnny Hiland
and his band! (
check out the recent live lesson with Johnny!
).
Events include:
beginner, intermediate and advance group lessons, ensemble rehearsals, piano lessons with
Will Barrow
, Jazz Fingerstyle Master Class with
Steve Krenz
, Rock Guitar Workshop with 
Phillip Meneses
, concert by Vince Gill at the Ryman Auditorium, Home Recording Workshop with 
Garrett Hestla
, Blues Guitar Master Class with Will McFarlane, Blues Monster Jam, Private Evening Concert with Russ Barenberg &
Bryan Sutton
, Song Writing Master Class with
Brian White
, Slide Guitar Masterclass with Rick Vito.
View the complete itinerary here.
- PLUS -
Have your guitar set up for free by Master Luthier, Greg Voros!
(
a $50 value
)
All in all, it's going to be a jam-packed few days. If you love playing guitar - no matter your age or skill level, we'll have beginners and youth as well as masters and, um...more wise people here! - you belong at
Guitar Gathering 2011
! Let's make sure you appear in the group photo for this year
(pictured is the group from 2010)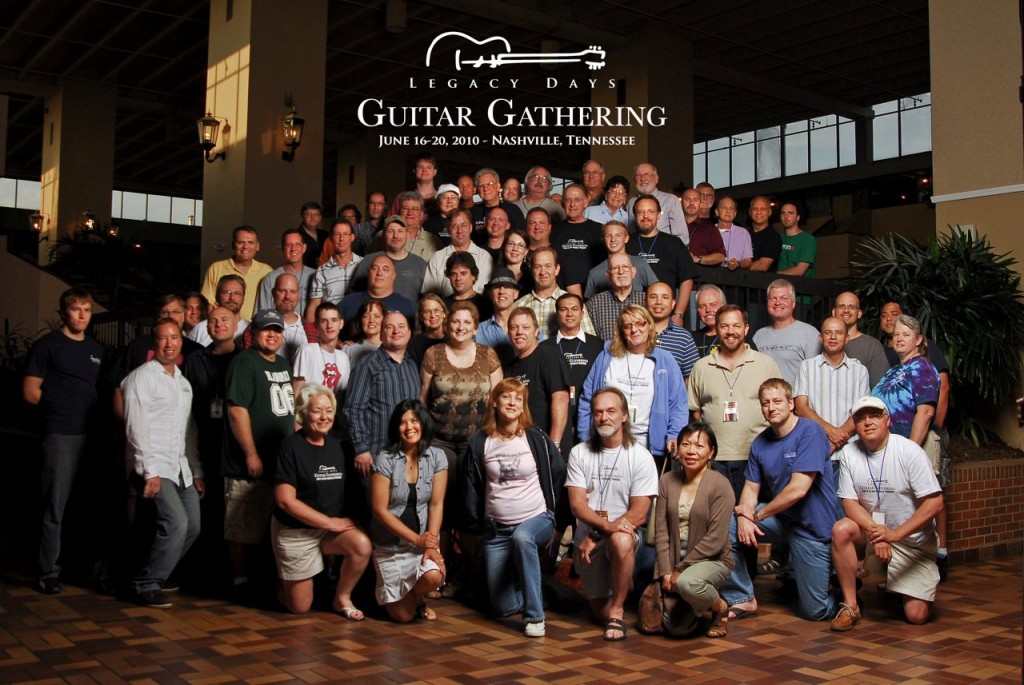 Connect

RSS Feed

Twitter

Facebook

Support Forum
Blogroll
Courses