Fingerstyle Guitar course Coming Soon!
Tuesday, October 09, 2012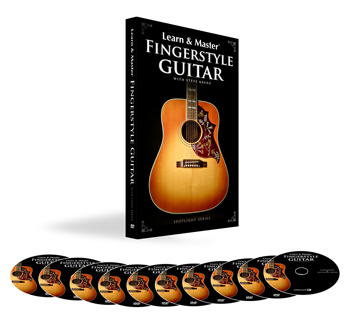 This will be the most comprehensive Fingerstyle course on the market! …from professional Nashville guitarist and Acoustic Guitar Magazine award-winning educator, Steve Krenz.
Grab your favorite guitar and limber up your fingers.  It's time to learn Fingerstyle Guitar.  You'll cover both basic and advanced techniques in Classical, Jazz, Merle Travis style, and more.  With this 10-disc set, guitar master Steve Krenz shows you how to play beautifully and cleanly using his tried and true Fingerstyle method.
Each session is accompanied by both a beginner and an advanced workshop session.  Best of all, you'll learn more than just "technique."  Steve teaches you how to arrange songs on your own for Fingerstyle guitar.  Imagine playing your favorites for family and friends, even if you've never heard them played Fingerstyle before.
There's nothing more fulfilling than being able to grab your guitar and play a full song with nothing more than just your fingers. Over 12 solid hours of step by step instruction from beginning finger patterns and arpeggios to advanced song arranging concepts and performance ready songs.
Each musical example and song notated in Tab and music notation plus hundreds of chord blocks. From classic songs like "Blackbird" by Lennon and McCartney to the haunting "Malaguena" to beautiful classical guitar pieces like Pachelbel's Canon in D and the swingin' jazz standard "Back Home Again in Indiana," you'll learn not only techniques but how to use them to make your own music.
Plus you'll see exclusive in-depth interviews with Fingerstyle masters, Phil Keaggy (Grammy nominated Fingerstyle legend), Thom Bresh (Merle Travis' son), and Pierre Bensusan (Guitar Player Magazine's 2008 World Guitarist of the Year). These interviews contain rare personal insights and of course, one-on-one instruction from these true Fingerstyle legends.
Skills, Songs, Inspiration – the tools you need to become the Fingerstyle guitarist you want to be.
*10 DVDs of Step by Step Instruction, Artist Interviews, Music Tracks for Each Song
*130+ Page Book Filled with Every Example and Song Notated in Music and Tab
*Over 20 songs: Full Fingerstyle Arrangements in a Variety of Skill Levels and Styles
*Styles: Classical, Jazz, Merle Travis, Pop Fingerstyle, Christmas Songs
*Comprehensive Beginning and Advanced Workshops for Each Session
*Bonus Features: Extensive Interviews with Fingerstyle Legends Phil Keaggy, Thom Bresh, and Pierre Bensusan
Coming Nov. 14, 2012!
Connect

RSS Feed

Twitter

Facebook

Support Forum
Blogroll
Courses