Gibson's Learn & Master Guitar App Reaches 2 Million Downloads
Monday, November 8, 2010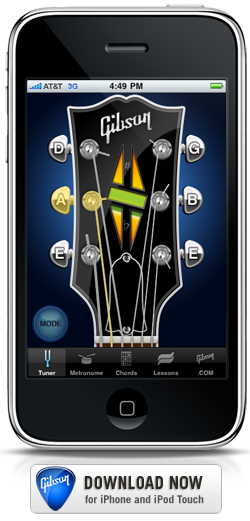 Remember back in March when we
announced
that Gibson's Learn & Master Guitar App for the iPhone was available? We, today marks two big steps:
First,
we surpassed two million downloads
(that's 2,000,000)!! Hooray!  Who would have thought that in eight short months we would have won a 
Billboard Music Award
for the app and hit the 2 million download mark? An update of the app is going to be released this week. If you don't have it and want it, go to the iPhone App download page by clicking the image on the right.
Second, 
the
Android version of the app is available!
The release of this version of the app was delayed due to some development set-backs, but no longer. If you own a Droid phone, you can find the app available on the Android Marketplace. Otherwise, we'll have it on our 
Guitar App page
soon.
If I might add a third point, we will be releasing a version of the app for Intel devices, so stay tuned for that release!
Actually, I'm going to add a fourth nugget - although it is on a different topic.  Right now on our Student Support Forum, we are running a 
Great Smilie Contest!
We want to collect musical, dancing, and art smilies (or emoticons) - like this one: 
- so that members can use them in the posts.  You can submit one and join in on the fun!
OK, no more additions, I promise!
Connect

RSS Feed

Twitter

Facebook

Support Forum
Blogroll
Courses