Guitar Giveaway Story
Wednesday, May 18, 2011
Last week on May 10, 2011, we had the highest attendance of any
Live Lesson
yet.
Over 300 people were logged in and watching!
Johnny Hiland was the special guest and it was apparent that all the viewers just loved it, as well you should since Johnny is only one of the greatest guitarist on the planet! About halfway through the lesson, we paused to pick a name for the
Epiphone Acoustic PR-4E
that we were giving away. The selection was random and the moderator of the Live Lesson chose
Landon79
(his Student Support Forum screen name).
We contacted Landon to let him know that he had won the guitar that was signed by Johnny Hiland. Landon replied to our email with his "guitar story". We were so touched and inspired by it that we decided it needed to be shared with you. Here is Landon's story (in his own words and with his permission):
Steve,





The past two years of my life have been a difficult journey from finding out I had colon cancer at such a young age to waiting for the results to know exactly how bad it was to going through the surgery to remove it to making the hard decision to follow up with chemotherapy to give the best chance of long term survival.  I am thankful to say that we did catch it early and doctors estimate I have about a 90% chance of survival.





During my six months of chemotherapy treatments I wasn't able to do much.  I just felt so bad and it really shot the nerves in my hands and feet to the point that it was even difficult to walk.  Needless to say playing guitar was out of the question.  It was during this time I found out about Johnny one day looking at

www.prsguitars.com

and started looking up his online videos.  I must have watched his videos a little bit every day - and looked forward to when I could play again myself.  I knew I would want to rebuild my skills when I got better, but also reach further than I had gone before and that was when I found out about Gibson's Learn and Master Guitar course.  It was exactly what I was looking for.





Cancer is not something I want to live in the shadow of for the rest of my life.  I'm not really the type of guy that mentions it looking for sympathy or attention - we all have challenges. If reading this story could in any way lift up someone going through a similar struggle I'm willing to share it.  To that person I would say hold on to anything that inspires you or gives you hope whether it be music or just a simple story of survival like mine.





I'd also like to give thanks to God and recognize the importance of a relationship with him through Jesus Christ.  I can't imagine going through a struggle like what I did without Him to lean on and all my family and friends and their churches praying for me, lifting me up, encouraging me.  At times I almost felt guilty for all the attention I was getting - I'm just not used to it and it was a humbling experience.





After I started getting healthy again, I started rebuilding my skills. I had also written you an email a while back (March 4, 2011).  Don't know if you got a chance to read it or not but here is a copy of it:




Steve,




I've always enjoyed music and been enamored with people who can play any instrument.  After some piano lessons and playing various instruments in the band in school, I settled in on guitar at about 15 years old.  I too was lucky enough to have a great guitar teacher and parents who encouraged me to do anything I was interested in (and foot the bill).  In college I took 2 semesters of music theory just to enhance my understanding of music and the guitar even though it wasn't my major.


Near my junior year of college I hit a wall with my guitar playing.  It seemed I was always working on the same stuff, trying to overcome the same hurdles.  I was spending a lot of time alone practicing, and realized college was a time I needed to get out and enjoy some things I could only experience during that time.  I still played off and on, but not near as much.  After graduating and focusing on my career and traveling like crazy - my playing took a back seat for a long while.  I am now 31.

I wanted to thank you for getting me back into playing.  There is a lot of material out there, some good and a lot bad - but your course seems excellent.  It is exactly the course I have always looked for - designed for someone wanting to play but also know why things work the way they do.  I'm moving through your course as a refresher at this point, but I've looked ahead and I know I'm going to learn a lot.  I think it can take me beyond where I've always gotten stuck before.


Thanks for your comments in the back of the book and having the guts to write them.  When I first read I was almost shocked Gibson would let you write about your faith.  It's great to be able to learn from a Christian. Thanks so much for taking the time from your family to share music with the rest of the world.  I read your bio and you've been really blessed - gotten to play a lot and with a lot of great people.  I hope God continues to bless you, your talent, and your family.




Anyway I'm very thankful for this gift, and look forward to meeting you if that is possible.





~ Landon C.
Landon lives nearby, so he stopped by the office just the other day to pick up the guitar that he won. It was a pleasure to meet him and talk with him for a bit. I wouldn't let him leave without getting a photo of us...it's just too bad that Johnny Hiland wasn't there to be part of it: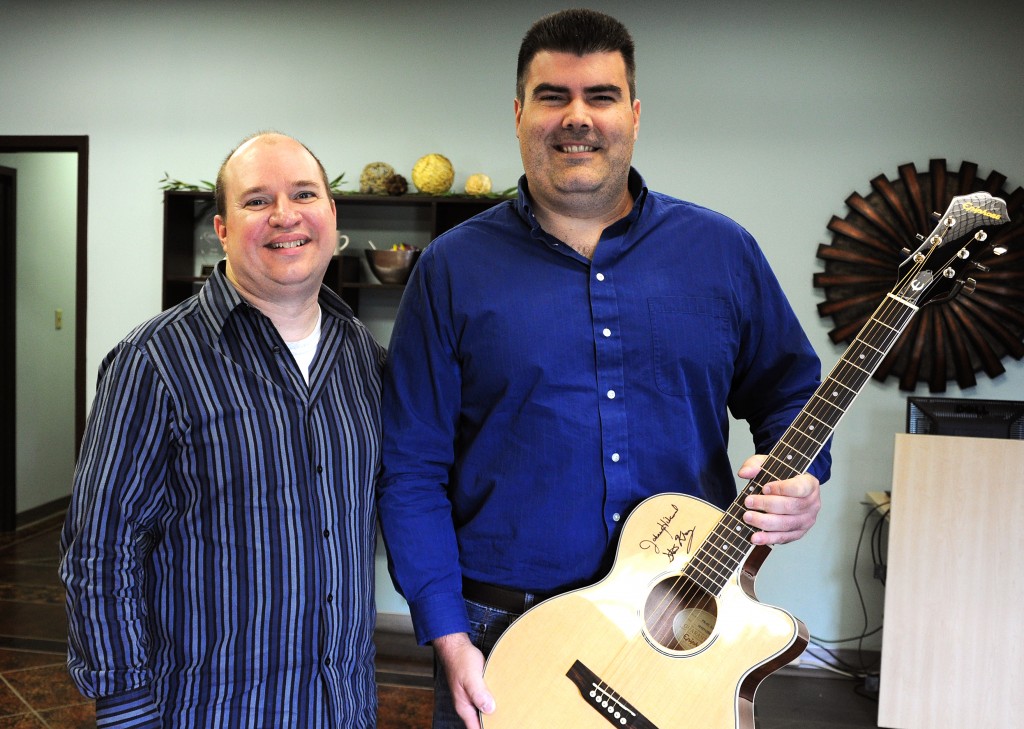 Connect

RSS Feed

Twitter

Facebook

Support Forum
Blogroll
Courses