Guitars for Troops
Monday, January 10, 2011
Each day I spend some time tweeting helpful (at least I think it's helpful!) links, videos and quotes from our Twitter account
@GibsonsLMGuitar
.  Today I got into a conversation with one of our followers,
@ELDogStar
.  He thanked me for my tweets and links (told you it was helpful!) saying they keep him motivated to play; sharing that he returned to our guitar course recently after being away for awhile because of a hand injury.  I offered to make a deal with him that I'd keep tweeting if he kept practicing...his response: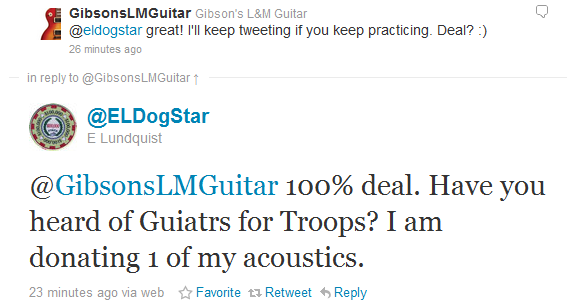 Great! One more student committed to practicing!  Wait, what's the rest of the tweet...Guitars for Troops?  Never heard of it.  I decided to check it out.  Here's what I found:
AND
What an amazing organization!  Since 2009, they have been sending donated guitars to troops in Afghanistan and Iraq!  As I read more and more on their website -
www.guitars4troops.com
- I was impressed with how many guitars have been donated and sent and how much joy a simple guitar could bring to the troops.  There were tons of photos of service men and women playing their guitar and they all had smiles on their faces!
It looks like they've sent over enough guitars that some troops have organized guitar lessons: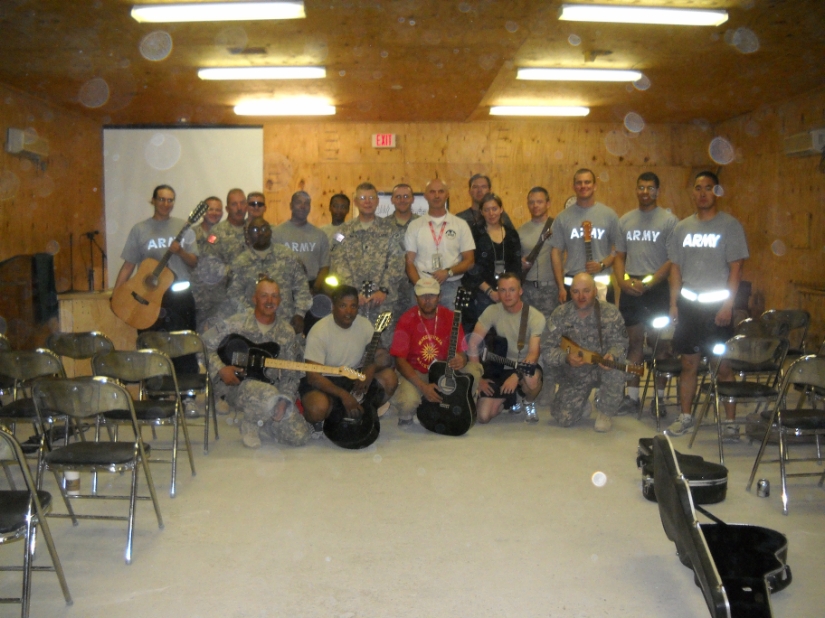 (photo courtesy of Guitars for Troops)
Check out the site and donate a guitar if you feel like it.  It's really easy to do, just call 615-672-7733 or email info@guitargal.com.  You can also donate money by for Guitars for Troops
here
.  All donations are tax deductible.  go ahead and make the day of a troop serving overseas!
Now THAT was a fruitful Twitter exchange! Not only did we secure a committed student, but we uncovered a great cause.
Connect

RSS Feed

Twitter

Facebook

Support Forum
Blogroll
Courses