Happy Birthday Les Paul!
Thursday, June 09, 2011
Today marks what would have been 
Lester William Polsfuss,
more commonly known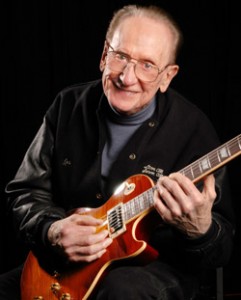 as Les Paul, 
96th
birthday. Many of you may only think Les Paul is the name of a Gibson guitar, when in fact Les Paul was one of the most influential guitarist ever. Besides being a master at the instrument, Les pioneered the modern solid body electric guitar, which we all know made Rock 'n Roll possible.
Les Paul lived from June 9, 1915 until August 12, 2009, just a few short years ago. Endorsed and later immortalized by Gibson, Les Paul developed one of the most popular guitars of today, the
Gibson Les Paul
.
Even Google celebrates his birthday by creating their homepage logo into a Les Paul that you can actually play! Here's a fun video Happy Birthday tribute, using the Google logo, to the man, the legend, Les Paul:
Les Paul will live forever as one of the most recognized names in music. Read more about the
life and legacy of Les Paul
in this article by Gibson.com.
Connect

RSS Feed

Twitter

Facebook

Support Forum
Blogroll
Courses