Introducing Skills House
Thursday, September 29, 2011

We're super excited to introduce Skills House on Gibson.com. Skills House is a brand new (launched today!) guitar lesson section powered by Learn & Master. It is complete with song lessons, guitar lessons, power workouts, style lessons, interviews, our Live Lessons and more. It may just be the most complete set of learning content online.
Here are the different lesson types within Skills House: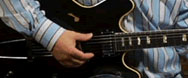 As you can see - there is literally TONS of guitar content for all types and skill levels. We'll continue to add more and more stuff to Skills House as fast as we can. More songs, lessons and interviews are sure to come in the months ahead.
So check it out, spend some time learning and growing as a guitarist in Skills House.
Connect

RSS Feed

Twitter

Facebook

Support Forum
Blogroll
Courses