July 2013 Student of the Month - Tom M.
Monday, July 15, 2013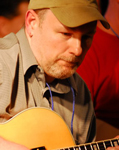 Tom M.
City:
Decatur, IL
Forum Username:
Tom
My Gear:
Guitars:
Breedlove Pro C25/CRH
Epiphone Broadway
Variax 300
Amps:
Roland AC-33 acoustic amp
Roland Cube
Line 6 Pod XT
Favorite Artists/Bands:
Tommy Emmanuel, Adam Rafferty, Frank Vignola and Joscho Stephan are my current favorites.
Favorite style of music to play:
Fingerstyle
What made you want to play music?
Just an overall love of music.
Previous Music Experience
Several years of grade school band trying to play the trumpet, A few guitar lessons a long time ago and decades of hacking around on my own.
If the house was on fire, which instrument would you grab?
I would save the Breedlove without hesitation.
Favorite place to be when playing guitar:
Probably relaxing on my couch.
Most delightful musical moment so far:
Getting up on stage at the first Guitar Gathering and playing Around The Pentatonic World for Everyone. Also hearing my original Christmas tune last year when it was completed. It was the first time I had written a song, lyrics and all.
Hobbies:
Other than music I spend way too much time playing video games.
Current Job:
I do software support and training for employees of the company I work for.
Connect

RSS Feed

Twitter

Facebook

Support Forum
Blogroll
Courses