June 2013--Which Pick to Pick?
Monday, June 17, 2013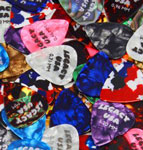 If you're like many guitarists, you don't really think too much about the type of pick you use. But, a pick can have a major effect on the sound and the feel of playing guitar. Here are a few quick tips for finding the right pick for your playing.
1) Thinner Picks are Better for Strumming.
If you're playing acoustic guitar that involves a lot of strumming then consider using a Jim Dunlop nylon pick .60mm. Thinner picks provide less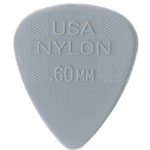 resistance against the strings and are much more flexible to accommodate the needs of long hours of strumming. If the pick is too stiff then your arm has to work much harder to accomplish the strumming. Choose nylon picks rather than plastic. Plastic picks tend to split after extended use.
2) Thicker Picks are Better for Defined Picking.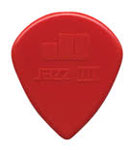 A thicker pick is better for quick, technical, defined picking. If you want to play a blistering fast lead solo or a fast-paced jazz solo, a thicker pick is going to give you the definition and control you need. Also, some players prefer a smaller pick for fast playing. I prefer the Jim Dunlop Jazz III pick. It's 1mm thick so it feels very solid but small enough to control easily.
3) A Pointed Edge Gives a Direct, Aggressive Sound.
The edge of the pick that strikes the strings is a major factor in how the pick sounds. The more pointed the edge, the more direct and defined your sound will be. For Rock, choose a pick with a pointed edge.
4) A Rounded Edge Gives a Warm, Round, Softer Tone.
When you desire a warm, rich, round tone, try a thick pick with a rounded picking edge. When I need that sound I reach for my Golden Gate mandolin pick. It has barely any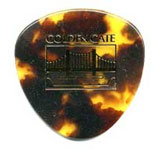 edge at all and works great to provide an instantaneous round, smooth tone perfect for Smooth Jazz.
5) Wegen Picks Work Well for Bluegrass Flatpicking.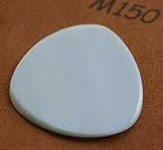 The great Flatpicking guitarist Russ Barenberg recommended these to me. Wegen picks are a thicker pick with a beveled, rounded edge, with a textured surface that provides a distinctive warm but defined sound. Wegen picks are handmade in the Netherlands.
6) A "Stubby" Pick Works Great When Picking on Nylon Strings.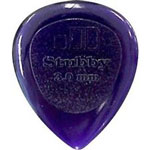 When I'm in the studio playing nylon string guitar and need a sweet, defined line on nylon strings, I've found that the thick Jim Dunlop 3mm "Stubby" pick works best. It's thickness and smooth, glassy surface provides a warm, round tone against the nylon strings.
7) For All Around Playing, Consider a Medium Nylon Pick.
If you're like most people, you're doing a little bit of everything as you play – strumming and single notes. For general guitar playing like this use a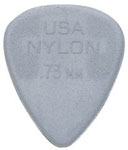 Jim Dunlop .73mm nylon pick. It provide enough flexibility to be comfortable strumming but is thick enough to work well on single notes. It's a great all-around guitar pick for acoustic or electric guitars. I never leave home without it.
As with anything with guitar playing, different players will have very different preferences. These suggestions are the picks that work for me and my playing. Your needs may be different. Experiment with lots of different brands, shapes, thicknesses, and picks with different edges to find the ones that work for your playing. Finding the right pick can make all the difference in the feel and sound of your playing. Keep up the great work!
- Steve
Connect

RSS Feed

Twitter

Facebook

Support Forum
Blogroll
Courses