L&M Guitar Student Profile of the Month: Dan Brown
Monday, April 09, 2012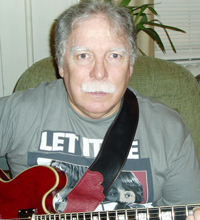 Name:
Dan Brown
City:
Bradley Beach, NJ near Asbury Park (born and raised Brooklyn, NY)
Forum Username:
Dan Brown
My Instruments/gear:
Epiphone Lt. Ed ES 355, Fender Squier Strat MIM (1991),  Charvel Custom 625C Acoustic Electric, Yamaha FG400A,
circa 1958 Harmony Meteor semi hollow body, Harmony LP knock off.  Fender Bullet Amp
Favorite Artists/Bands:
First and foremost, the Beatles. The whole Classic Rock collection of artists, Stones, Doors, Clapton, Cream, Hendrix, Deep Purple, Procol Harum, and on and on...actually just became aware of Joe Bonamassa through the forum, I'm going to see him May 14th, the guy is unbelievable!  Oops, almost forgot Steve Winwood, going to see him May 27th... Also, Willie Nelson, I have Willie Nelson's autograph tattooed on my right arm (from about 32 years ago!), Johnny Cash, Merle Haggard (same birthday as me, he is a few years older!).
Favorite styles to play:
Classic Rock, Blues, some Country
What made you want to play music?
 I've always loved music, and have always been intrigued by the guitar, not only the playing of it, but the craftsmanship, there are so many beautiful guitars out there!
Previous music experience: 
In grammar school, I was in the choir, you didn't even have to be a good singer, they needed bodies in the chairs.
I was born in 1954, so I was fortunate to witness the whole Beatlemania phenomenon first hand, I remember watching them on Ed Sullivan on February 9, 1964.  So, as you can imagine, being almost 10 at the time, my friends and I got cheap plastic guitars right away and formed bands!
In my teen years, I picked up the guitar here and there, and that cycle continued into my adult years. Learning a little of this, a little of that and never really putting it together. I see this as a familiar pattern with many, many other forum members.  Anyway, after another long sabbatical, I came across Gibson's Learn and Master Guitar and am so glad I did.
I am in Session 9 right now and it is coming along. I'm having a little difficulty with some of the more complex strumming patterns, but, they are coming along slowly but, surely. I believe I need to relax more on some of those patterns and not think about the downs and the ups as Steve says on the DVD. I'm still working on a couple of them. And, I plan to study more of the theory before moving on.
I realize I'll never be the next Clapton or Bonamassa, I just want to be a well rounded guitarist, and I believe L&MG gives me the tools to do that with the best instructor in this type of format you could ask for, Steve Krenz. Steve explains concepts in such an easy to understand fashion, it makes the course very enjoyable. Even though you know there are thousands of other students, you feel he is talking and practicing just with you.  And, you can play the lesson over and over again, the L&MG course is great!
If the house was on fire, which instrument would you grab?
I'd have to cheat and grab two, the (cherry red) Epiphone Lt. Ed ES 355 and the Charvel Custom 625C acoustic/electric.  I'd just have to replace the MIM Fender Squier Strat with an American Standard Strat!
Favorite place to be when playing guitar:
I play guitar in my living room for the most part.
Most delightful musical moment so far:
As I just recently posted on the forum, I've been a "student" since mid-October 2011. I've been practicing consistently an average of 6 nights a week, anywhere from an hour to two hours a night.  My daughter Sarah had been walking by most nights and never had made any remarks until last week when she blurted out, "Hey, I know that song!" I was playing the melody to the Beatles "Yesterday" on the Charvel 625C acoustic. I replied, I guess my practicing is paying off, she answered Yep!  The next night I was playing, "Michelle" and she said, I know that one too!
My wife, Diane, loves to hear me play, she always asks me for a "concert", the first song I learned for her was the Beatles "If I Fell" which is now one of her favorite Beatles tunes. She enjoys my "concerts" even when I screw up on a tune and have to start all over again! My "concerts" right now only consist of a few songs that I need to play while reading the sheet music in front of me. But, the "set list" will grow....
It is good to have "fans" at home!
Hobbies:
I am an avid Scuba Diver, I dive New Jersey waters for the most part, although I have dove Florida, Massachusetts,  Jamaica and Grand Cayman.  I am also an avid NFL football fan, I've been a NY Jets fan since Joe Namath, and have an extensive memorabilia collection.
Current Job:
I am a Lieutenant (aka Lieutenant Dan) with the U.S. Postal Police in the New Jersey, Newark Division.  We are the uniformed branch of the U.S. Postal Inspection Service, and serve to protect the mails, postal property, postal employees and postal customers in our area of responsibility.
Connect

RSS Feed

Twitter

Facebook

Support Forum
Blogroll
Courses