L&M Student Profile of the Month: John Leonard
Tuesday, May 08, 2012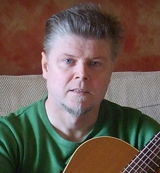 Name:
John Leonard
City:
Cookstown, Ireland
Forum Username:
jleo legacy
My Gear:
Godin SeaGull S6 Folk Cedar +Q1
Crafter GAE 648 CD acoustic
Squire (Fender) Stratocaster standard (Gun metal black)
Yamaha 112J electric. (Blue)
Stagg C542 (nylon string classical)
M-Audio Keystudio (39 key midi keyboard)
Hohner Countryman Hobo acoustic (Satin) (Retired)
I rarely play through amps. Instead I'll use headphones or go unplugged. I use Reaper DAW software and get excellent latency with a Tascam US122L audio interface running on Win 7 x64 Os. I used my Zoom G2.1u foot pedal as a pre-amp and effects/ amp modeling unit and plugged through the Tascam regularly but have strayed from it in favor of Amplitube purely because of how easy it is to alter tone. For example, the ability to run two different mic'd cabs/amps with different mic setups to a stereo signal with whatever effect you want on either channel...now thats just awesome. My next want-to-have purchase is a configurable midi foot controller pedal board with multiple switches and dual expression pedals.
Favorite Artists/Bands:
Rainbow, Black Sabbath, Deep Purple, Dio, Pink Floyd, Queensryche, Dokken, Black Foot, Mama's Boys, Bon Jovi, Motor Head , Metallica, Iron Maiden, Mötley Crüe, Hay Seed Dixie, Joe Satriani, Jean Michelle Jarre, Chris De Burgh, Steve Earl, Creedence Clear Water, Barclay James Harvest, etc. I could go on for a long time.
Favorite styles to play:
Metal, Classic Rock, Pop, Bluegrass. (I've always had expansive taste in music and it has expanded even more since I started learning to play guitar properly with L&MG.)
I'm still blossoming in this regard though I like to play fingerstyle (I just started session 10). I also like making rhythmic noise like lots of the rock stars I've listened to. I like to improvise. I like being able to stick in a blues note or two and know how to bend, slide, and hammer notes. I like it all...it's just amazing. When I get to country and Jazz, I'll like that too.
What made you want to play music?
 I first tried to learn to play when I was 10-12 years old. My uncle who was a banjo player in his own band and had a friend that was making great sounds with guitar. I was enthused and wanted to learn. At the time I had a borrowed guitar and didn't make enough use of it, so it was eventually taken back by my uncle. So when I had enough money and the inclination I bought my old Hohnor Country Man, even though it was 16 years later I still wanted to learn. To date this is my 3rd or fourth time trying to learn and this is also the longest time I've managed to keep my nose to the grindstone. I'm now 45 years old and I've been learning/playing for 3 years come the 20th of August 2012.
Previous music experience: 
Played accordion push button with dummy notation (much like tab I suppose for guitar). Play harmonica but only by ear...never learned to play properly. I had rudimentary music lessons at high school and also played recorder.
If the house was on fire, which instrument would you grab?
My SeaGull Folk Cedar +Q1
Favorite place to be when playing guitar:
I don't have a music room, so the next best thing is my Man Cave (a corner of the family dining room where I have a comfy seat, footstool, and my dual screen win pc setup).
Most delightful musical moment so far:
This I can answer but requires two events: 1) the missus saying, "I like that one you play" even when she doesn't know what it was called; and 2) Knowing that my commitment to practice is starting to bear fruit. I also like playing pieces just for the sheer joy of listening to myself playing and creating music for me.
Hobbies:
In the early 90's I took a city and guilds exam to gain a license to operate vhf and hf radio equipment in the United States. They are known as Radio Hams here in Europe. We are Amateur Radio operators/experimenters (called for the fact that the pioneers of the hobby had to build there own gear). I always liked tinkering/experimenting with antennas and fixing electronic devices, so my hobby revolves around experimentation and discovery (software, hardware, etc... as long as it's fun). I also like puzzles (don't matter what kind).
Books:
Currently reading
Music Theory for Computer Musicians
,
Reaper Power
Current Job:
Computer technician
Legacy Courses I am Taking:
Learn & Master Guitar
Connect

RSS Feed

Twitter

Facebook

Support Forum
Blogroll
Courses