November 2013 Student of the Month - Hector F.
Thursday, November 21, 2013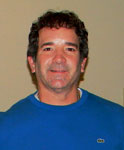 Name:
Hector F.
My City:
Atlanta, GA
Forum Username:
hrfdez
My Instruments/gear:
Gibson Les Paul Standard Gold Top, Gibson Les Paul Traditional Honey Burst, Gibson Les Paul Signature T Alpine Burst, Gibson ES 339 Antique Cherry, Fender Telecaster Deluxe (Alder), Fender Stratocaster Deluxe (Ash), Taylor Big Baby Acoustic.
Amps: Mesa Boogie Lone Star Special, Marshall DSL15C, Fender 65 Deluxe reverb RI.
Favorite Artists/Bands:
Deep Purple, Yes, Pink Floyd, John McLaughlin, Joe Bonamassa.


Favorite style(s) to play:
I will like to learn how to play Classic Rock and Blues.
What made you want to play music?
I always wanted to learn to play an instrument. I tried to learn guitar when I was in the Army, but got frustrated and never followed through. This was back in 1990. Fast forward to July 2013. All of the sudden, I had the urge of getting back at learning the guitar, so I started looking for an instructor, but could not find one in my area. While doing an internet search, I stumbled upon the Learn and Master Guitar website. I saw some of the demos with Steve at the helm, and I realized this was the course that was going to take me across the finish line. So here I am, at 47 years of age, grinding it out and having fun with it.
Thanks to Steve and L&MG for making my dream possible!
Previous music experience:
I was a Choir singer in High School (Tenor) and also did back ups for different artists in Puerto Rico.


If your house was on fire, which instrument would you grab?
Wow, that is a tough one, I really like all my gear. But, it will have to be my Gibson Les Paul Gold Top Standard. This was always my dream guitar!


What is your favorite place to be when playing guitar?
I really like playing in my apartment. Mostly because I am by myself, so I don't have any distractions. But I also like to take what I have learned and play it for my wife at home.
What has been your highest, most delightful musical moment so far?
Been able to play a whole song, mostly single notes, but nevertheless.
Hobbies:
Golf, Surfing, Progressive Art.
Current Job:
World traveler :-)
Connect

RSS Feed

Twitter

Facebook

Support Forum
Blogroll
Courses