October 2013 Student of the Month - Ray U.
Thursday, October 17, 2013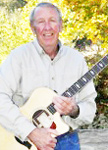 Name:
Ray U.
City:
Gold Hill, Oregon
Forum Username:
folio
My Gear:
Martin Custom Dreadnought
Taylor 814ce
Boss eBand JS 10
*More picks than I can count ;-)
Favorite Artists/Bands:
My musical tastes are rather eclectic, ranging everywhere from classical to country and bluegrass to pop, rock and some jazz. Favorite guitarists are Pete Huttlinger, Pat Metheny, Sungha Jung, and Tommy Emmanuel.
Favorite styles of music to play:
I'm still in the early stages of LMG so having a favorite playing style is still ahead of me. My ambition is fingerstyle.
What made you want to play music?
Growing up in the 50s before TV came to our house, I would go to bed early every Saturday night and listen "Your Hit Parade" on the radio. I'd then fall asleep with a favorite tune running in my head. From there it entered my blood stream. "Fever" by Peggy Lee made it boil.
Previous Music Experience:
Took up the guitar when I was in high school. In college, I toured the sorority houses playing and singing for my dinner. Since I was self-taught, I wasn't much good, but I had a lot of fun. Unfortunately, the women only thought of me as little-brother cute, so dates were harder to come by. After graduation, family and career put a stop to my playing until this last year when I bought guitars for my grandkids for Christmas and got the bug again.
If the house was on fire, which instrument would you grab?
Yikes! I got two hands. Can I grab them both?
Favorite place to be when playing guitar:
I'm rather partial to my little studio in the corner of our guest bedroom. Everything is in easy reach and the view out the window to our garden and pastures beyond is very peaceful. One day I hope to say the same for my playing.
Most delightful musical moment so far:
Last spring our forum moderator, Snuggs, and I did a long-distance duet (we live 2500 miles apart) of "Simple Gifts." It was great fun. My private lesson with Steve in Seattle back in August ranks right up there as well.
Hobbies:
We don't call the place where we live a "hobby farm" for nothing. Each year we donate about 2,000 pounds of fresh vegetables to a local food bank. Between that and learning to play these guitar machines, my days are full.
Current Job:
Retired management consultant and executive coach.
Connect

RSS Feed

Twitter

Facebook

Support Forum
Blogroll
Courses