October Student of the Month - Jodi J.
Monday, October 13, 2014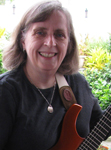 Name: Jodi J.

My City: Johnson City, New York

Forum Username: Jodispc

My Instruments/gear:

• Parker PDF 70 - Tangerine Electric Guitar
• BT2 Baby Taylor - Mahogany top 3⁄4 size Acoustic
• Martin 00016GT - Auditorium size Acoustic
• Martin 000CX-1E – Custom X Series solid top Acoustic/Electric
• Yamaha GL1 Guitalele – Tobacco Sunburst Mini 6-string nylon
• A few Ukuleles
• Roland 10W Cube Lite (I use this all the time for practice)
• Fishman Loud Box Mini (acoustic amp)
• Fender Frontman 15R
• Jam Man Solo XT Looper
• Blue Chip Jazz LG 40 pick
• George L Cable

Favorite Artists/Bands:
I don't really have a favorite band. Favorite male artist would be Jim Croce and female artist would be Cher. I enjoy most genres of music with the exception of heavy metal and rap. My daughter's love of music keeps me constantly discovering new sounds. Favorite style(s) to play:

Currently, my focus is on learning. I love to play all the different styles that lessons present. By far, the hardest for me is chord studies. I find leads and melodies much easier.

What made you want to play music?
A few years ago, I got an unusual opportunity. When a neighbor who played guitar found out I had an interest, he offered me a beginner level acoustic he had, on one condition. The guitar was never to be sold. I could keep it forever, or get rid of it anytime – but only by giving it to another person who also had a desire to learn to play guitar. If they took the guitar, they had to agree to the same terms. He wanted that guitar to be dedicated to give people a free way to start playing.

I started playing on that guitar and when I decided to get more serious, I upgraded to a better instrument. I passed it on to a college student, who got started on it as well and eventually picked up a second guitar. Later, when a co-worker of his expressed a desire to learn, but was unsure about the cost of getting a guitar, he passed the guitar on with the same terms. I have since lost track of the instrument, but the neighbor's goals were met. That guitar got at least four people started.

Previous music experience:
In elementary school I started playing on a Tonette and then went to flute. I played flute in Orchestra, Concert Band and Marching Band. In Junior High and High school, I played piccolo as well. I was intrigued with guitar in my teens, but it was not offered in school back then and my parents did not have the means to get me private lessons. My older brother played trumpet, but since trumpet and flute are in different keys, it was difficult to play together from the same music book. I got a cheap, half-sized guitar and he got a recorder. I managed to strum some basic chords while he played the melody. It was fun for us, but I never got very far on my own. It fell by the wayside until I was in a position to try again.

If your house was on fire, which instrument would you grab?
If limited to one, it would be the Parker. However, given the opportunity, I would grab the Taylor and fling that over a shoulder, take the Parker in one hand and one of the Martins in the other. (Since the Martins are stored in identical SKB cases, it would be luck of the draw on which one I saved).

What is your favorite place to be when playing guitar?
I like to play upstairs in a room I also use for my artwork. The sound doesn't travel much out of that room, so I can play and not bother others doing things in other rooms. One of my dogs usually comes in a settles down nearby when she hears me playing. Someday, I hope to have a dedicated music room.

What has been your highest, most delightful musical moment so far?
In addition to the Learn and Master Lessons, one Christmas, my husband gifted me with guitar lessons. We found a very talented, gifted musician and teacher named Lee Campbell. He teaches you to read music and play guitar with traditional books that blend wonderfully with the Gibson Lessons. In 2011, my husband was diagnosed with bladder cancer. At the onset, he asked me to please keep the guitar lessons going. He set a goal to drive me to guitar class on Tuesday afternoon and let me have an hour off to watch the live lesson after supper. The local teacher agreed to keep us scheduled every Tuesday at the same time. He gave his full support, understanding we might have to cancel on short notice. Tuesday became "Guitar Day".

Sometimes we had to cancel the afternoon lesson for medical reasons, but I could usually get to my computer or iPad for the Live Lesson at night. Having those times to just break away and focus on the guitar was like therapy. I would love these teachers to know how much they helped us through this difficult time.

Ten surgical procedures and three different series of chemo treatments later, my husband got his first clear checkup this June and his second this September. Having the music to fall back on during this stressful time was a wonderful way to center on keeping things "normal". Making "Guitar Day" happen was an important goal for my husband and I admire his determination to do this for me.

The guitar lessons certainly have helped me improve on my guitar playing, but more than that, they have served as a wonderful, positive thing to look forward to.

Hobbies:
I enjoy drawing and painting in acrylics. I quilt, knit and do a variety of other "crafts". I like to sew and have found a niche sewing pajamas for dogs... mostly for Chinese Cresteds (of which we own two). I also do a lot of different work with computers for myself, family and friends.

Current Job:
I now classify myself as retired. I worked as a Computer Systems Analyst for a company that built flight simulators. I left my position as a Technical Lead in their Research and Development department when my daughter was born over twenty years ago. I chose to stay home and be a full time "Mom".
Connect

RSS Feed

Twitter

Facebook

Support Forum
Blogroll
Courses