September 2013 Student of the Month – David R.
Monday, September 23, 2013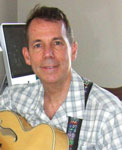 Name:
David R.
City:
Portland, Oregon
Forum Username:
3rdwaverider
My Gear:
Guitars:
Ibanez PM 35 (Pat Metheny signature jazz archtop)
Fender American Special Stratocaster (1970s retro edition)
Martin Backpacker
Amps, Etc:
Roland Cube 80XL
Boss eBand JS 10
Favorite Artists/Bands:
Jazz... Pat Metheny, Lee Ritenour, Bob Devos, Russell Malone, Wes Montgomery, Howard Roberts, Pat Martino, Les Paul, Grant Green.
Rock... Joe Satriani, Jimmy Page, Nokie Edwards (The Ventures), Jim Thomas (The Mermen)
Favorite styles of music to play:
Mid-twentieth century Jazz and surf guitar
What made you want to play music?
Playing the guitar lights up so many of my senses: the feeling of it in my hand and against my body, the vibrations in the instrument, the way the sound changes the pressure in the room when I play through the amplifier. It evokes many different emotions depending on the style of music I am playing. I feel like I'm part of a community that is carrying on a musical tradition. I love the sound of the guitar, no matter what style. But I especially love the sound of an archtop accompanied by piano or a Hammond organ.
Previous Music Experience:
My sister bought me a guitar when I was six years old, and she convinced her a high school friend, who making records with a rock band, to give me lessons. I was very committed to it and started my first band when I was in the fourth grade. I played at dances, parties, and battle-of-the-bands events in the Los Angeles area in middle and high school. In my late teens, I lost interest and sold all of my equipment – including a Gibson ES-335 and a Martin D45 (kick me – hard!).
In my early thirties, I was inspired by Michael Hedges and Alex DiGrassi. My mother bought me a steel string acoustic guitar and I played for a year or two, taking lessons from finger-stylist Doug Smith. But raising a family, career, and cycling got most of my attention and I quit playing. It was about 20 years later - in September of 2011, that my wife and I saw Pat Metheny at the Alladin Theater in Portland. It sparked my desire to play again. She and I went shopping and bought the Ibanez PM 35. I ordered Learn & Master Guitar and I've been studying for two years. It has been hard at times to stick with it, because I can't yet make the music that I hear in my head. But my wife constantly reminds me to enjoy the journey and the music I make. I couldn't continue to play without her.
If the house was on fire, which instrument would you grab?
The PM 35 – no question about it!
Favorite place to be when playing guitar:
In my study, in front of the music stand, playing through the eBand JS 10.
Most delightful musical moment so far:
I'll mention two…
The first was in 1968. I was in the 7th grade. Our little rock trio performed at a Battle-of-the-Bands. I remember we were playing "Badge" by Cream to a much older audience than we normally did. I remember they were smiling, clapping, and dancing with the music we were making. In June of this year, I reached out to the other guitarist in that band. I asked him to help me play and record a song for the L&MG June Challenge. Though we now live 1,000 miles apart, we learned and recorded Apache together. The project rekindled a friendship and memories we made more than 40 years ago.
The other moment relates to my study this year in L&MG Session 14. I was one of four students who began supporting each other in the online Forum as we learned the arpeggios given in the Bonus Resources book. Steve joined us and gave us "Blue Bossa" as a capstone project for the session. Then, last month when I traveled to Seattle for a private lesson with Steve, I heard my recording of Blue Bossa playing on his computer when I walked into his room. Just like my work with my old friend on Apache, music collapsed time and space united me with a kindred spirit.
Hobbies:
Cycling, hiking, kayaking, music.
Current Job:
Healthcare information technology marketing.
Connect

RSS Feed

Twitter

Facebook

Support Forum
Blogroll
Courses