STUDENT OF THE MONTH: Justin Q
Friday, May 23, 2014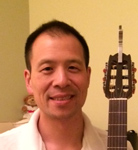 Name:
Justin Q.
My City:
San Francisco
My Instruments/ Gear:
Gibson Les Paul Studio; Takamine G acoustic electric; Fender VG Stratocaster; Fender American Standard Telecaster; Ibanez Artcore AF100 Semihollow and Cordoba 45R Classical guitar
Favorite Artist/Bands:
Steve Krenz, Carlos Santana, Joe Pass, Joe Satriani and Eric Clapton
Favorite styles to play:
Blues and Jazz
What made you want to play music?
It's exciting to be able to create a medium of communication that can make others happy. Making music with a guitar does just that.
Previous music experience:
I first took folk guitar lessons in the third grade and continued to then dabbled in classical guitar while a 7th grader for one year. I stopped playing until picking it up again in 2005. But rather than play simple open chords with strumming songs that one could not decipher without a vocalist to carry the melody, I wanted to learn how to solo and have the guitar "sing" for me. That's when I scoured the internet trying to find a course that could help me build a better foundation so that I could finally understand the music theory that I just could not understand through random web sites and Youtube videos. At the time, I found Legacy's Learn and Master Guitar. This along with a personal guitar teacher, I began to better appreciate the application of music theory to the guitar. I still have a lot to learn but Steve and his multiple lessons continue to interest me. At this time I have stopped seeing my guitar teacher due to time constraints but I still continue to watch Steve on Ustream TV and I am currently trying to get through the Learn and Master Blues Guitar Spot Light Series. In addition, weekly I play for my church's choir which has been helpful in applying the lessons in real performances.
If my house were on fire what instrument would I grab first?
I would probably grab my Takamine acoustic. My Gibson and Fenders are more valuable but practically, they would be of no use to me without the amplifier and pedals- things I would not be able to carry out of the house with me if I were in a mad dash.
What is your favorite place to be while playing your guitar?
I play in my den.
What has been your highest,musical moment thus far?
Recently playing solo in front of my congregation using the minor pentatonic. I had not prepared the night before but the song called Rain Down, which has aa I IV V progression with a blues style feel, overtook me and I could not stop..... The rest of the band was playing the rhythm. At the end of the song, people just kept complimenting me of how well it sounded. More importantly, by knowing the key and understanding how this song in particular was built, I was not afraid of making a mistake but more afraid that I would not be able to finish expressing my self by the time the song ended. I could not have gotten this far without Steve's course and the friends that allowed me to play with them.
Hobbies:
Spending precious time with my wife and four children
Job:
Physician in San Francisco's Chinatown
Connect

RSS Feed

Twitter

Facebook

Support Forum
Blogroll
Courses