Student of the Month: Neil E.
Wednesday, July 23, 2014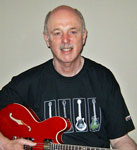 Name:
Neil E.
My City:
Caledon Ontario Canada
Forum Username:
Neil ES335
My Instruments/gear:
2011 Gibson ES335 Dot Heritage Cherry Flame Top, 1968 Ovation Balladeer Acoustic, 2013 Godin 5th Ave. Broadway Archtop, Fender G-Dec 30 Blues Edition, VoxAmPhones and all the usual accessories,
Favorite Artists/Bands:
Eric Clapton, BB King, Stevie Ray Vaughan, George Benson, Wes Montgomery, Joe Pass, Larry Carleton, Guess Who, Bachman Turner Overdrive (Randy Bachman) Beatles, Stones, almost anything from the "60's and "70s
Favorite style(s) to play:
Mostly Blues, some Rock, a bit of Folk/country, lately (thanks to Session 10) even a bit of classical... My goal is to learn Jazz...Very eclectic
What made you want to play music? Just really enjoy it... an escape that gives pleasure to me and hopefully a listener too.
Previous music experience:
I took the obligatory piano lessons as a kid, then in junior high school, we had music class with strictly classical orchestra instruments (no guitar allowed...boo) I was the biggest kid in the class so I got the Double Bass! Like a lot of guys in my teens in the "60's and "70's I loved the music and wanted to play guitar. My aunt bought me my first acoustic at about age 13, and I learned mostly simple country and folk songs, on my own with old Mel Bay books and listening to records. Later, life and career got in the way and my guitar mostly stayed in the closet for almost 30 years until about 5 years ago.
If you house was on fire, which instrument would you grab?
That's a tough one... My Gibson ES335 is the obvious choice, but my 1968 Ovation Balladeer has been with me so long and sounds so sweet now. If I have 2 hands, why not both?
What is your favorite place to be when playing guitar?
Just at home in my den...
What has been your highest, most delightful musical moment so far?
So far belonging to an exceptional group of people, an "extended family " if you will, of dedicated like-minded enthusiasts, with a superb teacher at the helm (that would be Steve!), has been a really delightful experience for me. I've had the chance to jam with another member who lives nearby once, and hope to do it again.
Hobbies:
Music, guitars of course, cars, a little golf and lately NHL Hockey (GO LEAF's )
Current Job:
Real Estate Broker
Connect

RSS Feed

Twitter

Facebook

Support Forum
Blogroll
Courses