Student Profile: Chuck McCollim
Thursday, January 5, 2012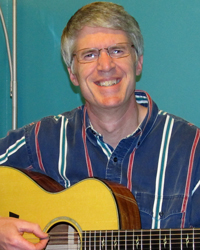 Name
: Chuck McCollim
Gender
: Male
My City
: Pensacola, FL
Forum Username
:
Chuck McCollim
My Instruments/gear
: Fender DG8S, Greg Bennett ST6-1, Taylor K14CE, Seagull M6
Favorite Artists/Bands
: Glad, Andrea Bocelli, Doyle Dykes, Bluegrass/Gospel/Folk
Favorite style(s) to play
: Right now, just reading and playing the single notes to a simple song (and folks know what the song is!)
What made you want to play music?
Since a child, I wanted to play an instrument—but was not given the opportunity. Two years ago, my family gave me a guitar for my birthday.
Previous music experience:
I sang in high school & church choir.
If your house was on fire, which instrument would you grab?
My Taylor K14!
What is your favorite place to be when playing guitar?
In tune! No really, probably on a Saturday afternoon when everyone is out shopping and I have the quiet house to myself. I can focus and work on a lesson, and see some real progress!
What has been your highest, most delightful musical moment so far?
Emailing Steve Krenz about my idea to start local Learn & Master guitar chapters/clubs—and Steve emailing me back to say he thought it was a great idea, and encouraging me to start one. (Second to that is my first time of actually reading the music and playing the correct notes to "Ode to Joy".)
Hobbies
: Everything guitar (repair, setup, etc.) Pensacola Players guitar club.
Current Job
: I close caption the "Rejoice in the Lord" weekly telecast program broadcast on the Daystar Television Network seen in most areas on Sunday nights at 7:00 pm CST.
Connect

RSS Feed

Twitter

Facebook

Support Forum
Blogroll
Courses