L&M Guitar Student of the Month: Daniel B. (aka Fabian Fledge)
Sunday, March 11, 2012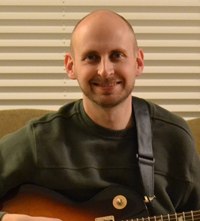 Name:
Daniel B.
City: 
Waterford, WI
Forum Username: 
Fabian Fledge
My Instruments/gear:
Fender Highway One Stratocaster
Gibson Les Paul Studio Deluxe 60's
Yamaha FG700S
Godin Kingpin II
Favorite Artists/Bands:
Way too many to list… Led Zeppelin, The Who, The Rolling Stones, SRV, Clapton, Hendrix.
Favorite styles to play:
Another loaded question! If you asked me when I started the course I would say Rock. The course has introduced me to different styles and genres like the blues, jazz, and finger style. I like playing them all. It depends on my mood.
What made you want to play music?
I was fortunate to have an older brother that loved to listen to all sorts of music. He had quite the collection of vinyl. I think a lot of my musical tastes come from hearing the music he was playing on his record player. I grew up in Milwaukee, WI. Every summer they have a music festival on the lakefront called Summerfest. My friends and I would catch a bus to the festival grounds and listen to all this incredible live music at the various stages during the weeklong festival. It really wasn't too difficult to find some sort of festival in Milwaukee during the summer to take in good live music. While I had the desire to play music, life always seemed to get in the way of picking up a guitar and trying to learn to play.
Previous music experience:
I played the saxophone in grade school. I wouldn't have minded learning the guitar, but my cousin had a saxophone sitting unused in a closet. I still remembered to read music after all those years though.
If the house was on fire, which instrument would you grab?
I love all my guitars. (A.K.A. The Boys) It would be hard to choose. I guess I would grab my Gibson Les Paul, since it is the last one I got, and gets played the most at the moment.
Favorite place to be when playing guitar:
 I like to play in the living room, sitting on the couch away from any distractions. It also has the best natural light in the house.
Most delightful musical moment so far:
 I would say when I decided to buy the course. I kept thinking I am too old to play guitar, and I will never get any good. Two years later I am still learning, playing, and having fun.
Hobbies:
Playing guitar
Current Job:
I work in a electrical test lab for a manufacturer of electrical distribution equipment. My company makes the equipment the power company puts out on the poles like transformers, fuses, etc. The lab I work in is called the short circuit lab. We have a big generator we use to simulate electrical faults, and do destructive testing. It is hard to describe, but you could say I blow things up with extremely high electrical current.
Connect

RSS Feed

Twitter

Facebook

Support Forum
Blogroll
Courses