Student Profile: Doug H.
Tuesday, June 07, 2011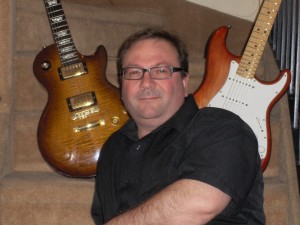 Name:
Doug Herlovitch
My City:
Brampton, Ontario, Canada
Forum Username:
Eracer_Team
My Instruments/gear:
2001 Gibson Les Paul Desert Burst Studio
2008 Fender MIA Sienna Burst Strat
1992 Vantage LP in Wine
2006 Simon & Patrick Cedar Folk CW
2009 Fender Jim Adkins Tele in Trans-black
2006 Dean Edge4 Bass in Trans-red
ET-5 EL84  tube amp. ET-10 6L6/EL84 tube amp –coming soon
Epiphone Valve Jr.
Traynor TS-15
Speakers from Warehouse Guitar Speakers: V30's, Lead-80's, Green Back 25
Pedals: Samson AP-1 Wireless, TC Electronics Poly-Tune, Slash Wah, Damage Control Liquid Blues, Behringer Equalizer EQ-700, Behringer Chorus UC-200, Ibanez DE-7, Morley Volume, Voodoo Pedal Power 2plus
Favourite Artists/Bands:
Rik Emmett, SRV, Jimi Hendrix, Joe Bonamassa, Triumph, Rush, Led Zeppelin, Pink Floyd, Black Sabbath
Favourite style(s) to play:
Hey I'm a LMG student I'm working on it. Yankee Doodle is not number one. Working my way towards rock-blues and blues styles (Jimi/SRV/Bonamassa). Love the Eb with a touch of wah full volume distortion of Star Spangle Banner.Want list of songs: Little Wing, Lenny, Voodoo Chile, Sloe Gin, Hard Road and of course you have to list Stairway to Heaven. All some day...
What made you want to play music?
Music has been in my family all my life, grandmother played violin, mom played piano, sister played guitar now plays banjo. My daughter plays piano, tenor sax, bass clarinet, now starting guitar but not with me, I'm too un-cool.
Previous music experience:
Very young (5 or 6?) had some violin lessons where I learned about my hearing problems (wearing hearing aids since I was 16), dabbled in drums for a short time (age 12), high school hung out with some guys that tried to make a band that didn't work out; would have helped if we knew how to play.  Took lessons a couple of times in my 20's; the instructor thing didn't work out and car racing took over.
If your house was on fire, which instrument would you grab?
With all the guitars in the house that makes it tough; could I make the wife and kids grab all the gear? I would have to grab the Desert-Burst Gibson Les Paul. I had a rare opportunity to meet and talk to Joe Bonamassa and had him sign the head stock; I would probably not get that chance ever again. The MIA Strat I'd miss dearly but I couldn't replace the Gibson.
What is your favourite place to be when playing guitar?
Basement Rec-room is set up pretty much for me, the amp's are in one corner, computer in the other, TV/DVD in the middle for L&M G DVD's to run. With the wireless unit I can walk out into the ravine in the back and continue playing on the patio to the animals that live back there in the woods and they never boo or tell me to turn it down. Although the squirrel's think I'm nuts.
What has been your highest, most delightful musical moment so far?
A duet with my sister on banjo at Christmas family gathering.
Hobbies:
Car Racing- Formula 2000 (can't afford the expense at the moment), Guitar, Tube amp building. L&M Guitar forum posting. Sound mixing at church children's choir. Theatre Stage Management with more than 8 major stage productions including co-producer title and stage manger.
Current Job:
Senior computer server specialist covering 5000+ servers nationally at a bank 24hrs a day (literally 24hrs a day every day of the year) for 15yrs, yes I'm very tired; computer tech for 30yrs.
(I do 99% of all my posts on the
Learn & Master Guitar forum
from work, makes you wonder when I'm home)
Connect

RSS Feed

Twitter

Facebook

Support Forum
Blogroll
Courses