Student Profile: Wesley Foll
Tuesday, August 02, 2011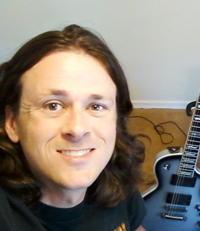 Name:
Wesley Foll
Gender:
Male
My City:
Chandler, AZ
Forum Username:
wesfoll
My Instruments/gear:
My electric is a "ESP LTD EC-1000" (silverburst pattern), and my acoustic is a entry-level guitar made by Mitchell (a "Guitar Center Special" as I like to call them).  My other gear is just a Roland MicroCube hooked into my Line 6 UX-1 hardware interface that connects to my computer which uses Pod Farm effects.  This is all I need so far for practicing and basic recording needs.  I'd actually recommend this setup to anyone who wants as many effects as possible on a budget.
Favorite Artists/Bands:
Where to begin - I've loved rock music and metal music for my entire life or at least since I was a little kid in the 1980s.  Philosophical and life-choices aside, my 2 most favorite guitarists have been slightly more obscure metal dudes.  For the past 15 or 20 years, I'd have to say my biggest influence has been Mikael Akerfeldt of the Swedish progressive metal band Opeth.  I really admire this guy's dedication to quality song-writing and his lack of fear of incorporating blues and jazz elements into his music.  He proves with every recording that a great guitarist does constant shredding NOT make.  Also topping my list is the Norwegian guitarist Vegard Sverre Tveitan (better known for his stage name "Ihsahn") from Emperor and in more recent times for his solo work - a man also unafraid to use elements that are usually not seen in the genre of screamo bands and most metal.   As far as guitarists that use techniques that I have admired, well, the obvious choices in the metal and rock worlds apply - Darrell Abbott aka "Dimebag" and Zakk Wylde for their crazy pinch harmonics and dive bomb antics, Eddie Van Halen for his crazy tapping skills, and of course the late, great, Stevie Ray Vaughn for good ole southern blues rock.  George Thorogood and Jimmy Page were also two of my favorite artists when I was a kid.  Steve Krenz deserves the lion's share of credit for influencing me, through his amazing video series, and his almost-weekly online video lessons and the level of his activity on the
G L&M Guitar discussion forums
- he really inspires me to keep learning and exploring music outside of my usual comfort zone.  His skill with the guitar goes without saying…
Favorite style(s) to play:
Rock & metal; however, the blues, classical finger style and jazz elements that are included in the G L&M Guitar course have been intriguing me lately and I have resolved to explore these genres more than I have ever done in the past.  The most interesting music, to me, is music that can include more than one genre of music.  Not everyone likes a one-trick pony all the time.
What made you want to play music? 
I have no idea.  It's just something in me that I ignored for years.  Years spent going through college earning my B.S. degree in Geology, and then working at that career for a few years supporting my wife through medical school and starting a family.  But it was always there, in the background…waiting.
Previous music experience: 
Complete beginner!  I never picked up an instrument. I let too many of life's distractions, well, distract me.  I have always loved music and had a more passionate feel towards listening to it than most of my friends ever did.  I also loved listening to classical music more than I can remember any of my friends ever doing.  I had the patience to listen to it and get absorbed in it, and they did not.
If you house was on fire, which instrument would you grab? 
The ESP.  The Mitchell is kindling as is!
What is your favorite place to be when playing guitar? 
My office / practice space - for now at least.  Someday soon I hope to find a band or some outlet outside of my four walls.
What has been your highest, most delightful musical moment so far? 
I have no poignant or painful story about musical moments to include here.  All I can say is that I love the fact that when I am playing something, it's a song
I
am playing.  It's not something another guy has done, that I am consuming.  Even if what I'm doing does not sound wonderful to my ears yet - it's still something
I
have done myself. And someday, maybe I will be good enough for others to listen to it as well.
Hobbies:
Guitars. Practicing. Music. Earth Science.
Current Job: 
Right now I am a stay-at-home father of our 2 kids.  In another year my daughter will start kindergarten, and then I will probably get back into my career of working for an environmental firm as a staff geologist.  Or maybe I will become an super-mega-ultra-famous rock god!   Time will tell!
Connect

RSS Feed

Twitter

Facebook

Support Forum
Blogroll
Courses