Thursday, November 21, 2013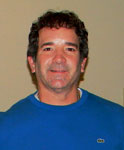 Name:
Hector F.
My City:
Atlanta, GA
Forum Username:
hrfdez
My Instruments/gear:
Gibson Les Paul Standard Gold Top, Gibson Les Paul Traditional Honey Burst, Gibson Les Paul Signature T Alpine Burst, Gibson ES 339 Antique Cherry, Fender Telecaster Deluxe (Alder), Fender Stratocaster Deluxe (Ash), Taylor Big Baby Acoustic.
Amps: Mesa Boogie Lone Star Special, Marshall DSL15C, Fender 65 Deluxe reverb RI.
Favorite Artists/Bands:
Deep Purple, Yes, Pink Floyd, John McLaughlin, Joe Bonamassa.


Favorite style(s) to play:
I will like to learn how to play Classic Rock and Blues.
What made you want to play music?
I always wanted to learn to play an instrument. I tried to learn guitar when I was in the Army, but got frustrated and never followed through. This was back in 1990. Fast forward to July 2013. All of the sudden, I had the urge of getting back at learning the guitar, so I started looking for an instructor, but could not find one in my area. While doing an internet search, I stumbled upon the Learn and Master Guitar website. I saw some of the demos with Steve at the helm, and I realized this was the course that was going to take me across the finish line. So here I am, at 47 years of age, grinding it out and having fun with it.
Thanks to Steve and L&MG for making my dream possible!
Previous music experience:
I was a Choir singer in High School (Tenor) and also did back ups for different artists in Puerto Rico.


If your house was on fire, which instrument would you grab?
Wow, that is a tough one, I really like all my gear. But, it will have to be my Gibson Les Paul Gold Top Standard. This was always my dream guitar!


What is your favorite place to be when playing guitar?
I really like playing in my apartment. Mostly because I am by myself, so I don't have any distractions. But I also like to take what I have learned and play it for my wife at home.
What has been your highest, most delightful musical moment so far?
Been able to play a whole song, mostly single notes, but nevertheless.
Hobbies:
Golf, Surfing, Progressive Art.
Current Job:
World traveler :-)
Continue Reading:
November 2013 Student of the Month - Hector F.
Posted in Gibson's Learn & Master Guitar | No Comments »
Thursday, November 21, 2013
Here's a classic rock riff that is used in countless songs. This riff works great over any major chord. Steve shows it using open chords as well as a moveable version. Experiment with your own variations!
Continue Reading:
November 2013 Video Tip -- Learn a Classic Rock Riff!
Posted in Gibson's Learn & Master Guitar | No Comments »
Thursday, November 21, 2013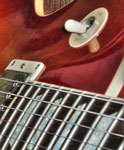 If you are like me, you appreciate straight talk – especially when it comes to something that is important to you, like learning guitar. There are just way too many opinions, by too many people, and too little time to wade through them all to find the real information. So, here are a few things, from where I sit, that every learning guitarist should know.
1) Decide. Are you going to do this or not?
Is learning guitar and playing music an important goal in your life? If it is ever going to be more than just a "wouldn't it be great" and a "maybe some day" kind of a hope, then you need to get busy. Stop waiting for the perfect time to get started. It will never come. Inspiration is for amateurs. Decisions, goals and actions are what get any job done. Decide, then start.
2) Don't wait for free time, PLAN time to learn.
Everyone's busy. Waiting to practice until you have some free time is a recipe for finding yourself a week from today not having touched your instrument. Think about your daily schedule and decide where you can fit in a few moments to practice. Set this time aside and be faithful to it.
3) Consistency is more important than quantity of time.
The old saying goes "only practice on days you eat." The human mind learns best in regular, consistent small doses. You'll find you learn and retain more in 15 minutes a day for 5 days than a 3 hour "binge" practice session on the weekend. Don't believe me? Try it and see.
4) When practicing, work and reach.
Don't fool yourself into thinking, "just because I have my guitar in my hands, I'm getting better." Progressing in your learning comes from "reaching" – from doing things that you can't do. It comes from struggling with a new task, fumbling around, making mistakes, eventually getting better at it, until slowly more successful attempts are made. If you're not "reaching" and "struggling", then you're not progressing.
5) Never waste a good mistake. Learn from it.
Don't make a mistake and think "well, I just messed up." If you make the same mistake more than once then stop and think about what happened. What specific musical task did you stumble over? Isolate it, and analyze it. Was it the change between two specific chords? Or, perhaps, you're consistently overreaching to get a particular note? You'll find that your mistakes are hardly ever random. They are very specific. Find what you stumble over, isolate it, practice it slowly until you can play it consistently correct, then put it back into context within the song. Be a student of your mistakes so that you can learn from them.
6) Record your progress - seeing the flower bloom.
When you finally get that new exercise down make a short video of yourself playing it. Try to make one video a week. After three months, you'll be able to clearly see the progress you are making. Recording yourself helps you measure your progress but it also helps you learn how to switch from "practice mode" to "performance mode" which is a vital skill.
7) Bring someone else along in your learning journey.
It's no fun learning alone. Involve someone else in your learning journey. Play your new song for your spouse, or friend. It's not about them being "impressed" with your playing. It's about having someone to help you be faithful to your commitment to learn.
8) Relax. It's just guitar.
Learning guitar shouldn't be stressful. It's a long road toward a very worthwhile and life-enriching end. Relax and enjoy the journey. You'll learn a lot better.
Keep up the great work!
– Steve
Continue Reading:
8 No-Nonsense Tips for Learning Guitar
Posted in Gibson's Learn & Master Guitar | No Comments »
Thursday, October 17, 2013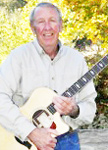 Name:
Ray U.
City:
Gold Hill, Oregon
Forum Username:
folio
My Gear:
Martin Custom Dreadnought
Taylor 814ce
Boss eBand JS 10
*More picks than I can count ;-)
Favorite Artists/Bands:
My musical tastes are rather eclectic, ranging everywhere from classical to country and bluegrass to pop, rock and some jazz. Favorite guitarists are Pete Huttlinger, Pat Metheny, Sungha Jung, and Tommy Emmanuel.
Favorite styles of music to play:
I'm still in the early stages of LMG so having a favorite playing style is still ahead of me. My ambition is fingerstyle.
What made you want to play music?
Growing up in the 50s before TV came to our house, I would go to bed early every Saturday night and listen "Your Hit Parade" on the radio. I'd then fall asleep with a favorite tune running in my head. From there it entered my blood stream. "Fever" by Peggy Lee made it boil.
Previous Music Experience:
Took up the guitar when I was in high school. In college, I toured the sorority houses playing and singing for my dinner. Since I was self-taught, I wasn't much good, but I had a lot of fun. Unfortunately, the women only thought of me as little-brother cute, so dates were harder to come by. After graduation, family and career put a stop to my playing until this last year when I bought guitars for my grandkids for Christmas and got the bug again.
If the house was on fire, which instrument would you grab?
Yikes! I got two hands. Can I grab them both?
Favorite place to be when playing guitar:
I'm rather partial to my little studio in the corner of our guest bedroom. Everything is in easy reach and the view out the window to our garden and pastures beyond is very peaceful. One day I hope to say the same for my playing.
Most delightful musical moment so far:
Last spring our forum moderator, Snuggs, and I did a long-distance duet (we live 2500 miles apart) of "Simple Gifts." It was great fun. My private lesson with Steve in Seattle back in August ranks right up there as well.
Hobbies:
We don't call the place where we live a "hobby farm" for nothing. Each year we donate about 2,000 pounds of fresh vegetables to a local food bank. Between that and learning to play these guitar machines, my days are full.
Current Job:
Retired management consultant and executive coach.
Continue Reading:
October 2013 Student of the Month - Ray U.
Posted in Gibson's Learn & Master Guitar | No Comments »
Thursday, October 17, 2013
Power chords are the foundation of rock and roll guitar playing! This video tip shows how to play power chords. Learn several basic power chords in the open position as well as several forms that can be moved anywhere on the guitar. With these forms you can play power chords in any key anywhere on the neck. Learn all you can! -Steve
Power Chords! | Learn & Master Guitar Monthly, Oct 2013 from Learn & Master Guitar on Vimeo.
Continue Reading:
October Video Tip - Power Chords!
Posted in Gibson's Learn & Master Guitar | No Comments »
« Older Entries
Connect

RSS Feed

Twitter

Facebook

Support Forum
Blogroll
Courses