Great Guitar Resources
Tuesday, November 30, 2010
If you are a current student of ours, you have our DVDs, jam-along CDs, workbook and
student support forum
access.  You also may know of some additional resources that we have for those learning guitar.  If you are not a student or if you don't know about our additional resources, this is a good post for you to read, bookmark and share!
Chord Charts: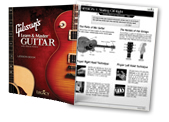 Bonus Guitar Resource Book
With our course, you receive a lesson workbook that you go through.  However, did you know we also have a bonus guitar resource book that is only available on our site.  This bonus resource book includes many other finger exercises, songs, chords and much more.
Download our Bonus Guitar Resource Book
It is a 189 page PDF file, so it may take a while to download depending on your connection speed.
More Guitar Resources for You:

Our
YouTube Channel
has sample lessons and videos on topics like
Correct Fingerpicking Position
, 
Proper Guitar Strumming Technique
,
Finger Exercises for Guitar
and lots more!

If you are more advanced guitarist and are looking for resources to your skill level, we have just started live guitar lessons with Steve Krenz.  Steve broadcasts from his own home Tuesday nights at 7pm.  You can watch Steve break apart songs, talk about music theory and even chat with him live!
Watch Steve's streaming lesson here
- you will have to
register a free account
with USTREAM in order to participate. I recommend doing that prior to the lessons so you can just log in and start watching right at 7.
Enjoy these resources.  I hope they improve your ability and make you a better guitar player!  Which of our resources are most beneficial to you?
Connect

RSS Feed

Twitter

Facebook

Support Forum
Blogroll
Courses