Steve Krenz, Gibson's Learn & Master Guitar Instructor

"I really enjoyed working with Steve on the blues course. He's a fine guitarist and an excellent instructor. The Legacy Learning Systems products that I've seen are top notch."
- Jack Pearson (Blues Guitarist for Allman Brothers, Jimmy Buffett, Faith Hill. "One of the best blues/rock guitarists on the scene today." - Real Blues Magazine)

Steve Krenz is a trained musician and guitar instructor. He has a degree in music and a wealth of professional playing experience. As a talented guitarist and educator, he shares a unique perspective to Gibson's Learn & Master Guitar students.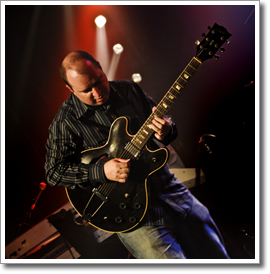 Steve's experience ranges from playing guitar with a symphony orchestra, to big bands and jazz bands, to performing with Grammy winning artists like Donna Summer, The Fifth Dimension, Israel Houghton, and Tommy Sims (producer, renowned bass player for Bruce Springsteen and co-writer of Eric Clapton's Grammy-winning song "Change the World"). Steve also has vast studio experience. His recorded guitar work has been featured in advertising campaigns for Coldwell Banker, Prudential and the World Cyber Games. He has performed with platinum-selling country music artist, Bryan White, as well as with Darlene Zschech & Hillsong, the Katinas, Jonathan Pierce, and GMA Dove Award winners Ron Kenoly and Don Moen.
Steve is an active guitarist playing and recording professionally in Nashville, Tennessee. He also holds a deep personal passion for training the next generation of guitarists. He is a sought-after speaker and teacher and conducts guitar and music workshops in churches and venues around the world, as far as New Zealand and South America. Steve has taught thousands of guitar lessons to players of all ages and skill levels. His goal is to help them go from where they are to where they want to be.
Whether it is playing classical guitar at a college, acoustic guitar in a recording session, or electric guitar in front of thousands of people with a Grammy-winning artist, Steve's musical excellence and versatility combined with a gift for communicating in an easily understood and practical way is a major asset to his students and a key to the incredible success of Gibson's Learn & Master Guitar.
Steve's musical quality combined with a gift for communicating is a major asset to his students. It is also core to the great success of Gibson's Learn & Master Guitar Home School course.
Steve lives with his beautiful wife and three growing boys in Spring Hill, Tennessee. From there, Steve travels worldwide conducting workshops in addition to his speaking and playing schedule.
This video is Steve Krenz playing guitar at the Nashville Jazz Workshop for a video shoot he was doing in conjunction with Gibson Guitars in the spring of 2010.
Steve playing a smooth Jazz Guitar song from the course. This video was filmed at the Nashville Jazz Workshop.
Video of Steve playing Ode to Joy at the Nashville Jazz Workshop.
You can view sample lessons of Steve's teaching in Gibson's Learn & Master Guitar on the Lesson DVDs and Workshops Page.