Gibson's Learn & Master Guitar Lesson Book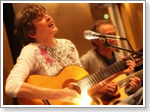 After viewing the videos and reading the book that's included in the Learn & Master Guitar course, I quickly learned that this is a must for any artists or songwriter. I would highly recommend this product. It's first class."
- Sandy Mason, Hit Songwriter (Garth Brooks' #1 Hit, "Two Pina Coladas" #1 and Crystal Gayle's "When I Dream")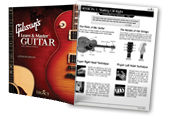 The Gibson's Learn & Master Guitar Home School Lesson Book is a perfect complement to the Lesson DVDs. The book contains all of the songs and exercises in the video lessons, as well as several more. Using it ensures your students can continue practicing at their own pace for as long as they need before moving to the next lesson.
The Lesson Book follows the same path as the DVDs, with a supporting section for each DVD lesson.
Here is an outline of each session in the lesson book with one sample page from each session. Each lesson section has many pages and the sample pages will show you a preview of quality of the lesson book. Click on the images for a larger view.