Gibson's Learn & Master Guitar Jam-Along CDs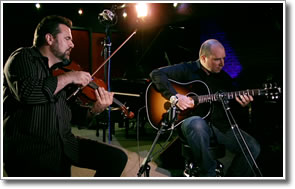 Many of our students and parents discover that the Jam-Along CDs are their favorite part of Gibson's Learn & Master Guitar Home School Edition. These CDs allow a student to practice the course's songs with an actual band. By "actual band," we mean some of the best players in Nashville! These recordings were made with professional musicians in one of Nashville's finest studios.
Thanks to the Jam-Along CDs, you'll love your practice times. They can also make playing for your friends and family a whole lot more impressive. When you play with great musicians, you feel the bar being raised. It's very motivating for the student!
The Jam-Along songs are the songs featured in the Lesson Book so that you can follow along with the music. Many of them are featured in the DVD workshops so you'll be able to learn how to play the songs directly from Steve.
We're not talking about just a few tunes here. The nearly 100 tracks included on the Jam-Along CDs are mixed so you can turn down the volume of the recorded guitar part using the balance control on your stereo. This lets you solo along with the band as they provide your accompaniment. This is an excellent way to improve your timing, feel, and other skills. Instead of just playing scales, you are playing real music!
At the beginning stages of the course, the Jam-Along songs are recorded at various speeds (slow, medium, and fast) so you can gradually increase your pace as you improve. You will not need this later on, but it is very helpful at first.
Beginner Guitar Songs
These clips are from the first two songs you'll learn. Your Jam-Along CDs will have "slow" and "medium" and "fast" versions of both of these songs.
Your First Song - Ode to Joy (Slow)
Songs You Know
Once you have a few more weeks of practice, you'll be able to begin playing along with some more popular favorites. Here are a few examples.
Various Musical Styles
There are also many tracks designed to help you practice different styles and genres. These tracks, like all the others, are mixed so that you can turn the guitar part all the way down simply by adjusting the balance on your stereo. Then you'll be Jamming Along solo style!
Power Chord Rock (Rock Practice)
Johnny's E Blues: (Blues Practice)
Remember, these clips represent just a tiny sampling of all the great music included with Gibson's Learn & Master Guitar. Your Jam-Along CDs contain each and every song covered in this course — nearly one hundred tracks in all!
Gibson's Learn & Master Guitar Jam-Along Band
In addition to our own Steve Krenz, check out who else you'll be jamming with!
Dino Pastin: Keyboard player for Alabama and Barbara Mandrell.
Javier Solis: Drummer and percussionist for Usher, Kenny Loggins, Faith Hill, Jaci Velasquez, and many others.
Abel Orta: Bass player for Jaci Velasquez and Promise Keepers, and a major Nashville session player.
The Jam-Along CDs have nearly 100 tracks for you to play along with. We obviously can't list them all, but here are some sample clips just to give you a taste. As you listen, imagine yourself playing the guitar parts. With Gibson's Learn & Master Guitar Home School Edition, your child and perhaps you soon will be!