Testimonials and Reviews
What do you think about our course? Leave your thoughts on the testimonial thread on our forum. We may post yours here!
"Steve, in your "Roadside Assistance" video you suggested we start teaching guitar. I took your advice and started a Beginner Guitar class at an organization named Youth Services of Tulsa. We had 14 kids ages 12 to 18. We spent 12 weeks learning Gibson's Learn & Master Guitar material and got 1/2 way through Session 4! We just had our first recital on Wednesday, and it went great. We played "Ode to Joy" and "Dust in the Wind". Now, you have a bunch of little disciples running around! I had a great time teaching and I am going to teach another Beginner class starting next week!"
Dagan H., Broken Arrow, Oklahoma
"My husband & boys, in particular, are very excited about this program that enables you to set the pace, especially since my boys, ages 14 & 9, are at different levels than even my husband. My teenager is aspiring to a career of some sort in the music field. He really likes the exercise that helps you maneuver your fingers up & down the fret-board freely, training them to move without thinking."
Cara G., Nashville, Tennessee
"My name is MacKenzie. I'm a thirteen year old girl from Rhode Island. My father bought me the Legacy Learning System, Learn & Master Piano after my sister started taking piano but I liked it more than she did. Here's what I think: I like how you learn a lot and can choose your own pace for the lessons. I enjoy how I can sit down whenever I want and am not obligated to attend any regular lessons. I also appreciate that I can pause the program and take a break or have a snack in the middle of the lesson and come back later. I have not yet tried any other methods of home schooling piano, but from what I have experienced, I hope to continue these lessons."
MacKenzie L. - Home School Student, Rhode Island
"My name is Emily, and I am a high school student just beginning to learn how to play the guitar. The Learn & Master Guitar program has been extremely helpful in getting me accustomed to the guitar. Being a home school student, I find the lessons easy to fit into my schedule because I can start them at my convenience rather than having to go to an instructor..."
Emily S.
"The DVD's are so detailed and I love the way the camera angles capture what the instructor is talking about. It feels like we are in the room with him. I got your product with my children in mind, but I have benefited as well. I have always wanted to play an instrument and with your product, I can learn along with my children… At first I was skeptical about replacing the hands-on teacher. After viewing and interacting with your product, I KNOW that it is possible to get good quality instruction without the high cost of private lessons."
Rhonda P. - Home School Mom , Brentwood, Tennessee
"Thank you Steve, you have made my dream come true. You have made me a guitarist."
Gene Arnold, Highland Lakes, New Jersey

"The interface is in your face! It's easy to follow for both a young player like my 12 year old son or a more experienced one like my studio buddies."
Noe Gold, Founding editor of Guitar World Magazine
"I must thank you Steve. You have changed my life. If it weren't for L&M Guitar and now the Blues Spotlight Series, I would never played guitar. I started last Mar 13th and followed the program religiously. Then in November, bought the spotlight series for Blues guitar. I love to play. In my wildest dreams I never believed I could play, much less get up in front of someone. Now I can and I am having a great deal of fun with life again. Thanks for caring so much for people and sharing the gift of music God has bestowed on you with people like me."
Joe King, Fayetteville, North Carolina
(Read the post on our student support forum)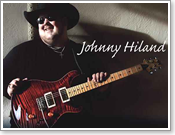 "I am very honored to have had the pleasure of meeting, and working, with Steve Krenz. Legacy Learning Systems provides a wonderful, informative, and user-friendly way to learn guitar. To me, guitar, and music itself, is a gift. This program is a blessing for everyone!"
Johnny Hiland (Guitarist for Ricky Skaggs, Vince Gill,
Toby Keith & Randy Travis.)
"I just wanted to pass along my thanks. I have been using our lesson DVDs and find them to be the best I have every come across. If I can do this I feel anyone who wants to learn to play a guitar can. Thanks so much."
Richard Reinke, Waukesha, WI
"After recently watching the movie The Bucket List, I convinced myself that I would learn to play guitar. I found some "free" lessons online and spent four long days plucking on my new guitar. I was ready to quit! You get what you pay for when you download "free" lessons. This course was money well spent. You really do make it seem like I am getting a private lesson. I can't thank you enough. This was the best money I have ever spent."
Ben Davidson, Livingston, Texas